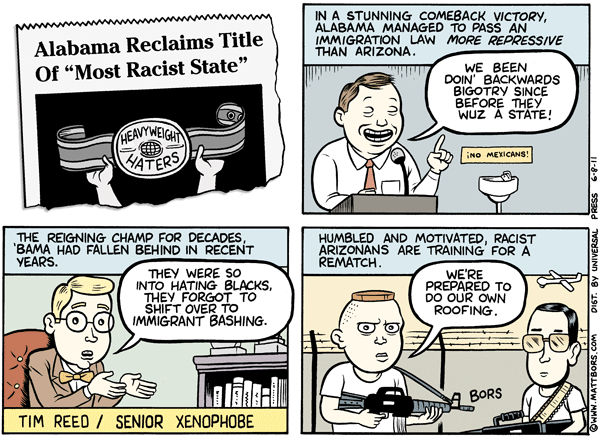 © Matt Bors
Alabama governor Robert Bentley signed into law the nation's nastiest immigration law, which requires local police to detain anyone suspected of being an undocumented immigrant. You can easily guess how that will end up — anyone who looks the slightest bit Mexican will get hassled and will have to carry citizenship papers at all times. I mean, think about it — if you were stopped by the police, could you prove you are an American? No, a driver's license won't be enough.
The new law also requires schools to check not only the immigration status of students, but also the immigration status of their parents. So great, Alabama doesn't want to pay a few thousand dollars a year to send the children of illegal immigrants to school (even if the students themselves are US citizens) so they will be more likely to end up in prison, which costs tens of thousands of dollars a year.
But that wasn't enough. The very same day, Alabama passed another law that makes it illegal to perform an abortion after 20 weeks, even when the pregnancy is the result of rape or incest. Nor is there an exception for when the pregnancy could harm the health of the mother. A doctor could be sentenced to up to 10 years in jail for breaking this law.
This bill is one of a new breed of anti-abortion bills that claim that a fetus feels pain at 20 weeks. According to state senator Scott Beason "It's clear that a baby at 20 weeks experiences pain. There's no doubt about that. We're trying to get it back to the point where once a baby feels pain, there can be no abortions." But according to the Journal of the American Medical Association "The fetus's higher pain pathways are not yet fully developed and functional" before the third trimester. That sounds like doubt to me.
But hey, Alabama, don't let reality stand in your way of regaining the title of most repressive and backwards state in the union.