Civil war is breaking out between the more moderate, responsible Republicans and the "Tea Party" Republicans over the debt ceiling debate.
Today, John McCain stood up on the Senate floor and accused conservatives of "deceiving" (i.e., lying) to their constituents and called their position "bizarro".
Even worse, House Republicans today called for the firing of Republican Study Committee (RSC) staffers after they were caught sending emails to conservative groups urging them to pressure GOP lawmakers to vote against Speaker John Boehner's debt proposal. At the closed-door meeting of Republicans, members started chanting "Fire him, fire him!" to the face of the executive director of the RSC.
One GOP insider said "It was an unbelievable moment. I've never seen anything like it."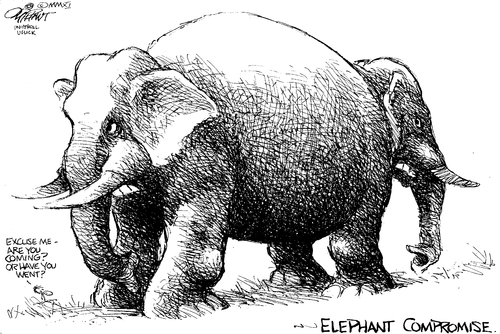 © Pat Oliphant