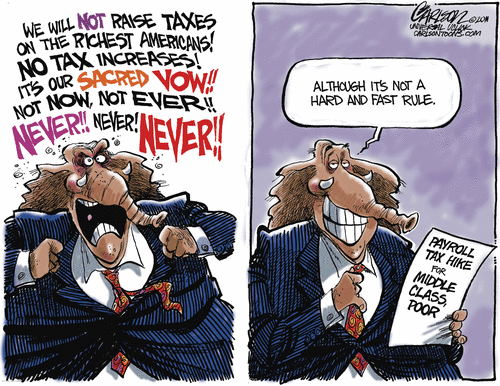 © Stuart Carlson
The GOP wants you to think that they are against raising taxes, so much that they claim that letting a tax cut expire counts as raising taxes (for example, in the case of the Bush tax cuts for the rich).
So why are the Republicans trying to stop Obama from extending the payroll tax cut? Didn't virtually every Republican in Congress sign Grover Norquist's pledge to not raise taxes? (As a side note, Norquist himself is curiously — and hypocritically — silent on this issue, even though he has repeatedly declared that letting tax cuts expire would violate the pledge.)
Interestingly, the Republicans don't even feel any need to hide their hypocrisy. For example, Congressman Jeb Hensarling (R-TX) justified the move by saying "not all tax relief is created equal for the purposes of helping to get the economy moving again." He's implying that tax cuts for the rich will spur job creation more than tax cuts for the rest of us, but the evidence says otherwise. In fact, cutting the payroll tax has been declared by the CBO as one of the most effective ways for creating jobs, while cutting taxes for the rich is one of the least effective.
So are the Republicans purposely trying to keep unemployment high so they can blame it on Obama? The only other sensible explanation is that they are class warriors who claim they want to cut taxes, but really only want to give money to the rich (perhaps in return for campaign contributions), while taking money away from the poor and middle class (who tend to vote Democratic).
Of course, then there is the explanation that makes no sense at all — that the Republicans are against extending the payroll tax cut simply because Obama is for it. Opposing Obama trumps even their most sacred principles.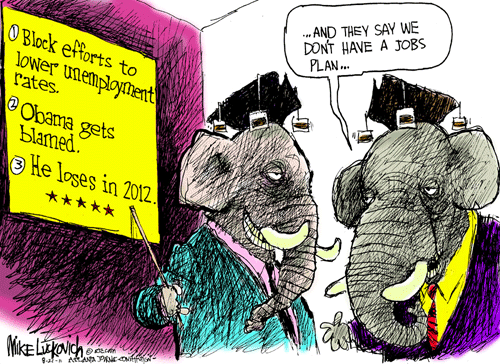 © Mike Luckovich