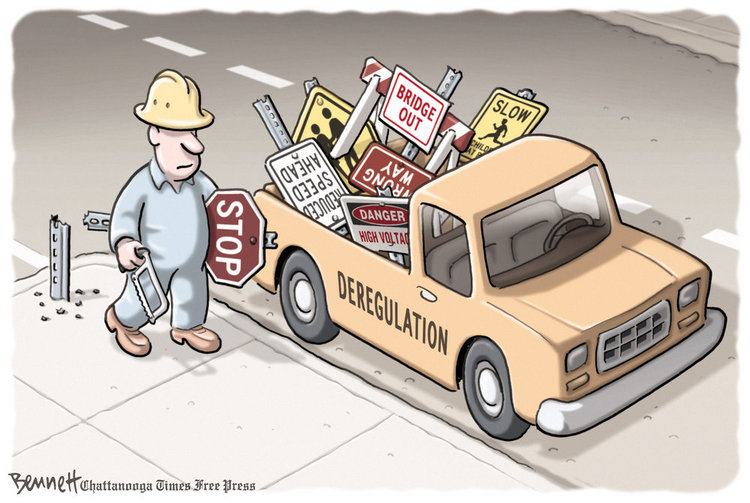 © Clay Bennett
I find this comic extremely ironic. It compares deregulation to someone removing traffic signs. When you look at it, your reaction is probably "OMG, deregulation is bad!". Anarchy and chaos would result! Injury, death, and mayhem in the streets!
The irony is that an increasing number of cities in Europe are doing exactly that — removing all traffic signs. Some are even removing road markings. So far, the result has been that motorists are forced to become more careful, reducing accidents and other problems. Even more ironically, traffic congestion is often lowered.
I'm not against regulations, and I'm not against deregulation. I'm for regulations that make sense, and against regulations that don't work.
A case in point is the city where I live. A few years back, the city rewrote the health laws that apply to restaurants, removing outdated regulations (that didn't make sense any more), and removing regulations that mainly served to reduce competition, such as simplifying regulations on small and unconventional restaurants like food stands at farmer's markets and food carts. At the same time, they made it easier to enforce the regulations that do protect the health of the restaurant-going public.
As a result, the food scene went from boring to bountiful. A major travel magazine rated us one of the top places in the world for street food. Food at conventional sit-down restaurants has gotten much better as well. Why? When regulations make it more expensive to start and operate a restaurant, you tend to be much more cautious and serve foods you know will sell. But with a lower barrier to entry, you can try more adventurous menus. Some of these innovative restaurants will fail because their food doesn't catch on. But at least they will fail quickly and waste less money failing, so their owners can try again. In just a few short years, we went from a monotonous food scene to one where I can get just about any kind of crazy delicious food from anywhere in the world. That's deregulation that makes sense!