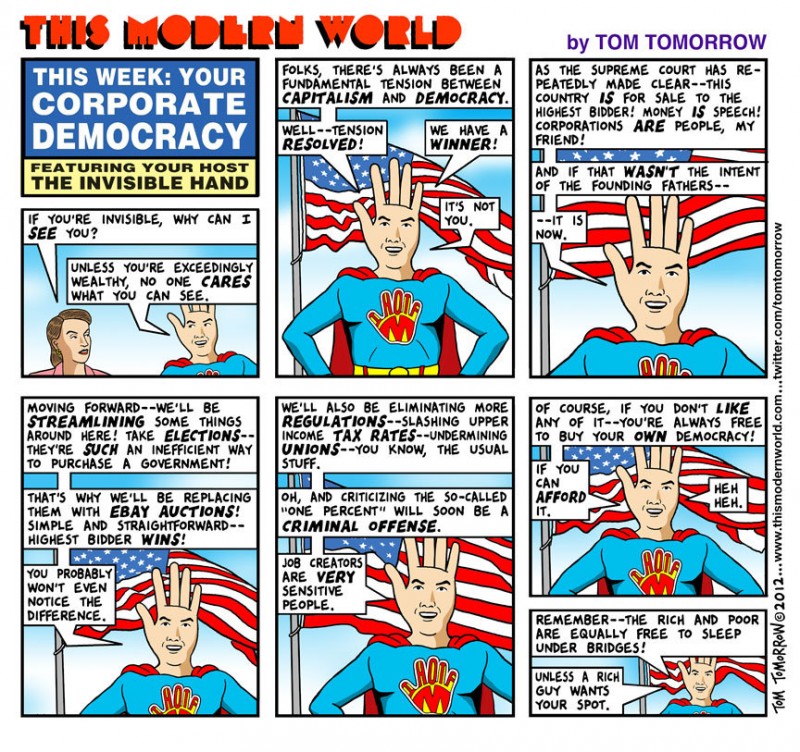 © Tom Tomorrow
The ironic thing about all this is that we've had this fight before. The American Revolution was as much a fight against the original multinational corporations as it was against the British government. After all, one of the most famous events in the run up to the revolution was the Boston Tea Party, where colonists destroyed tea owned by the monopolistic British East India Company, which was so large it had its own army and effectively ruled India for 100 years (resulting in the Indian Rebellion of 1857).
In response to the Boston Tea Party, the British government passed the infamous Intolerable Acts (also called the Coercive Acts), which ordered the colonists to repay the East India Company for the destroyed tea. The colonists refused, and the rest is history.
And the reason the colonists destroyed the tea in the first place? It was a protest against the Tea Act, which was passed in order to save the East India Company from bankruptcy. It was the original government bailout of a company that was too big to fail!
Does this all sound too familiar? Will history repeat itself?