Republicans have repeated the lie that Obama is a big spender so often, that even some democrats believe it. But the fact is that federal spending under Obama has increased at the lowest rate since Eisenhower wound down the Korean war. Adjusted for inflation, federal spending under Obama has gone down. Even not adjusted for inflation, in Obama's first budget (for fiscal year 2010), spending in raw numbers went down 1.8%. And in his budget for 2013 spending is scheduled to fall 1.3%. How does this compare to other presidents?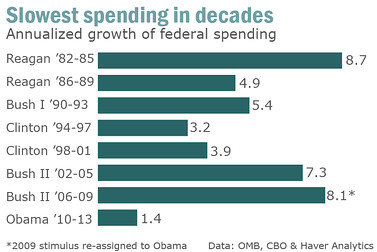 It goes back even further. Indeed, the poster boy for cutting government spending is Herbert Hoover, but even Hoover increased spending by 12.3% a year.
So how have Republicans convinced people that Obama is a big spender? Part of it is by repeating it so often that people start to believe it. As Mitt Romney recently put it "I will lead us out of this debt and spending inferno." The other part is from blaming the 2009 budget on Obama. Forbes magazine explains:
So, how have the Republicans managed to persuade Americans to buy into the whole "Obama as big spender" narrative?

It might have something to do with the first year of the Obama presidency where the federal budget increased a whopping 17.9% — going from $2.98 trillion to $3.52 trillion. I'll bet you think that this is the result of the Obama sponsored stimulus plan that is so frequently vilified by the conservatives… but you would be wrong.

The first year of any incoming president term is saddled — for better or for worse — with the budget set by the president whom immediately precedes the new occupant of the White House. Indeed, not only was the 2009 budget the property of George W. Bush — and passed by the 2008 Congress — it was in effect four months before Barack Obama took the oath of office.
Even if you attribute the stimulus spending in 2009 to Obama, along with spending for the children's health care program and other bills passed in 2009, spending under Obama still increased only 1.4% a year.
Making this even more ironic, the Heritage Foundation fights back by blaming the entire 2009 budget on Obama, and then hypocritically use as an example of big spending by Obama the Affordable Care Act (ObamaCare), which was not only their idea in the first place, but which the CBO says will reduce the deficit. Also, they continue to condemn any efforts to rein in our out-of-control military spending. And where were they when Cheney was claiming that deficits don't matter, and Dubya was spending like a drunken sailor with a pocket full of credit cards?