The Republicans picked Mitt Romney, because he seemed to be their only candidate who wasn't completely crazy. And then he had to go and do this.
A crisis in the Middle East erupts because some asshole idiot in the US makes a really crappy low-budget movie that seems to be designed solely to anger Muslims (who at this point don't need much to get them pissed off). It depicts Muhammad as a "cowardly, drunken torturer of children and old women." Kind of like what would happen if some Muslim made a movie depicting Jesus as a gay pedophile who runs an abortion clinic and shoots up drugs (except a Muslim wouldn't do that since they actually revere Jesus).
Riots break out. The American embassy in Egypt tries to cool things off by issuing a relatively mild statement condemning people who disrespect religion, any religion. The kind of thing you might do if you are trying to keep your people alive.
So what does Romney do? On 9/11, on the same day when Romney said you shouldn't criticize the president about foreign affairs, he releases a statement condemning the administration. "It's disgraceful that the Obama administration's first response was not to condemn attacks on our diplomatic missions, but to sympathize with those who waged the attacks."
First of all, this statement is a lie. The statement from the embassy was made before any attacks on our diplomatic missions. In fact, the statement was designed to reduce the chances of such an attack.
Is Romney really this trigger happy? In fact, originally the statement was released with an embargo until midnight, so that it would not come out on 9/11. But a few minutes later, the Romney campaign lifted their own embargo. They just couldn't wait. They had to turn an international incident where American lives were lost into cheap, lying political fodder.
Shame on you Romney. You are not qualified to be dogcatcher, let alone president.
Even Republicans were aghast at Romney. One senior Republican said "They were just trying to score a cheap news cycle hit based on the embassy statement and now it's just completely blown up." and called Romney's statement an "utter disaster" and a "Lehman moment" (referring to when McCain lost it during the financial crisis during the 2008 presidential campaign). Another Republican said "I guess we see now that it is because they're incompetent at talking effectively about foreign policy. This is just unbelievable — when they decide to play on it they completely bungle it."
So what does Romney do? He doubles down on incompetence. Defending his earlier statement against charges that it was released before Romney had all the facts, he said "It's never too early for the United States government to condemn attacks on Americans and to defend our values." In other words, it is more important to act like an overbearing jerk than to try to defuse a violent situation.
Which brought even more disbelief from Republicans. A former Bush State Department official said "It wasn't presidential of Romney to go political immediately — a tragedy of this magnitude should be something the nation collectively grieves before politics enters the conversation." Steve Schmidt, senior campaign strategist to Sen. John McCain in McCain's 2008 presidential campaign, said Romney's "comments were a big mistake, and the decision to double down on them was an even bigger mistake. There are legitimate criticisms to be made but you foreclose on your ability to make them when you try to score easy political points. And the American people, when the country is attacked, whether they're a Republican or Democrat or independent, want to see leaders who have measured responses, not leaders whose first instinct is to try to score political points." Another former campaign aide for John McCain said that Romney is "Not ready for prime time." And a former US ambassador to NATO under Bush said "Frankly, the charges he made were not only completely untrue but reckless and irresponsible."
As damage control, the Romney camp then sends out a set of talking points. If asked "Did Governor Romney 'jump the gun' last night in releasing his statement?" they are supposed to respond "No. It is never too soon to stand up for American values and interests."
And he's supposed to be the Republican who isn't crazy?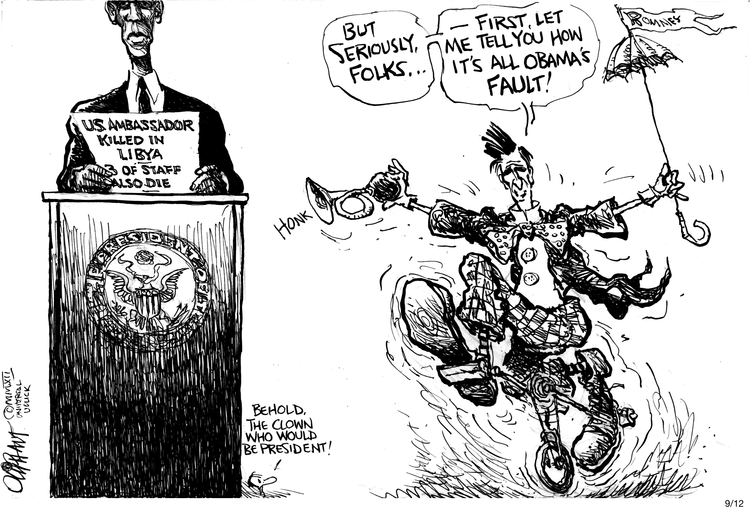 © Pat Oliphant