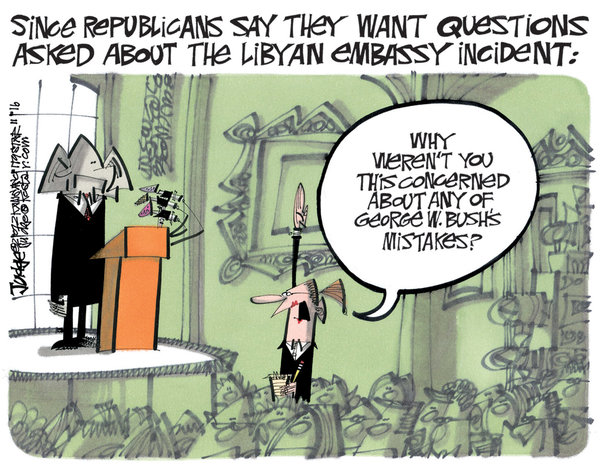 © Lee Judge
Despite embarrassing themselves by jumping the gun attacking Obama over the Libyan Embassy attack, the Republicans don't have any hard facts so they keep throwing innuendo around.
This is beyond hypocrisy. Just a few months ago at the Republican convention, they were trying to rewrite history by saying that George W. Bush "kept us safe". In order to believe that, not only do you have to ignore the 9/11 attacks, the anthrax attacks, and (worst of all) getting us into a preemptive war of choice in Iraq that cost 4,488 Americans their lives. Was that "safe"? Heck, were the victims of Hurricane Katrina kept "safe"?
What makes this even more scary is that Romney surrounded himself with the same neo-cons who ignored the warnings about 9/11 and got us into a stupid war in Iraq.