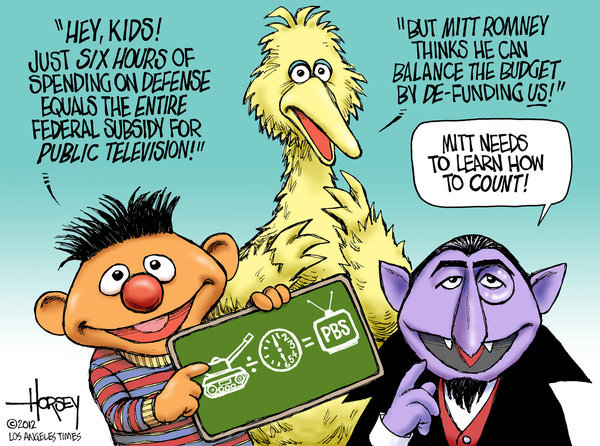 © David Horsey
Who else thinks that defunding PBS has nothing to do with balancing the budget, and everything to do with pushing the Republican agenda. After all, you can't buy public television.
As the cartoonist David Horsey put it:
So, after many long months of campaigning and promising to cut the deficit while also cutting taxes, the single genuine and specific spending reduction Romney has stipulated is the one one-hundredth of a percent of federal expenditures that helps pay for Big Bird, Downton Abbey and the rest of the PBS lineup. Defenders of PBS were quick to point out that eliminating the federal subsidy for public television would trim an amount equal to just six hours – 360 minutes – of spending at the Pentagon.

It seems as if it would be more effective to leave PBS with its minuscule piece of federal largess and, instead, cut six hours – or maybe 24 or 48 hours – of military spending, right? Apparently not to Romney. Rather than trimming the Defense Department budget, he has proposed a radical spike in defense outlays that would take military spending to the highest level in 60 years.
We already spend more on our military than the next ten countries combined. We need more weapons, and less education for our young children? That sounds like a recipe for disaster.