This billboard has suddenly appeared in black, Latino, and university areas in the battleground states of Wisconsin and Ohio: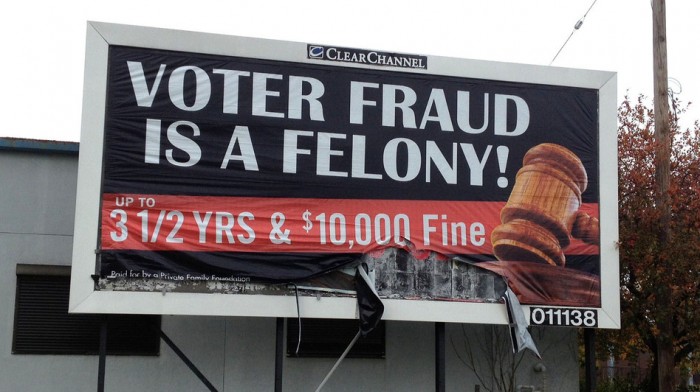 It is a blatant attempt to suppress the vote among groups that tend to vote Democratic. So you might be wondering who is behind the ads, which only say they are from a "private family foundation". But Clear Channel won't tell you, even though their own company policy forbids anonymous billboards. Even more suspicious, the company says they will ensure that this will not happen again, but according to NPR almost identical billboards went up in Milwaukee in 2010, again funded by a "private family foundation".
And of course, Clear Channel itself is owned by Bain Capital, which Mitt Romney founded and ran until he became a politician.
Republicans continue to claim that voting fraud is epidemic, but there is no basis to these allegations. In fact, studies done show the opposite. It is ironic that the only election related fraud I've heard of is being done by Republicans.
Is it any surprise that a UN-related organization is sending 44 election observers to monitor for anti-democratic activities?
UPDATE: The Virginia Attorney General and the State Board of Elections have refused to investigate the case of the Republican Party contract worker accused of throwing voter registration forms in the trash. The Virginia registrar even claimed "I don't think there's any political motivation" in the case. Sheesh.
UPDATE2: Clear Channel started taking down the billboards today, rather than reveal the identity of who paid for them.