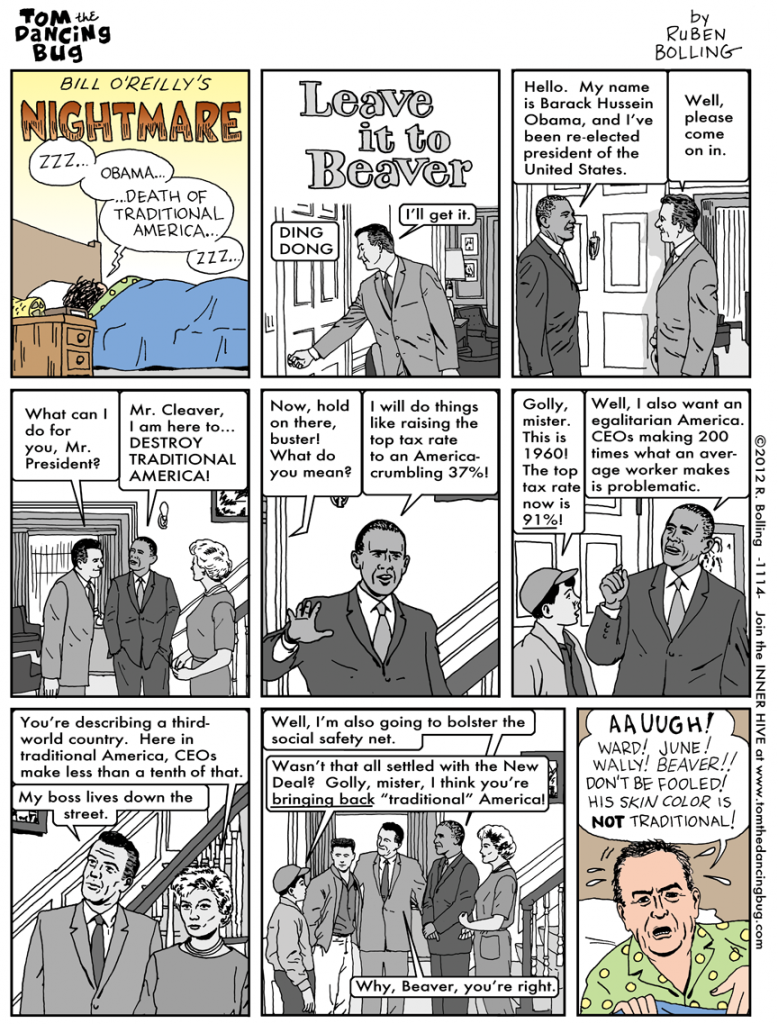 © Ruben Bolling
On his show, Bill O'Reilly recently said "Traditional America as we knew it is gone. Ward, June, Wally and the Beave — outta here!"
I thought it was weird enough when conservatives attacked Murphy Brown, a fictional TV character. But now they seem to be basing their vision of conservative America on a classic sitcom — Leave it to Beaver.
But sure! Let's take America back to the era of higher tax rates for the rich, back to less obscene pay for CEOs and hedge fund managers, back when politicians were spending more time bolstering the social safety net than trying to blame our nation's problems on the poor or on immigrants (you know, the people who founded this country).
As Ruben Bolling said about his own comic:
The right has always fetishized 1950s suburbia as the idyllic landscape of "traditional" America, full of nuclear families, strong values, men in suits and Wonder bread (R.I.P.). But how would the world of Leave It to Beaver really see the 2012 election? Mitt looks an awful lot like Ward, but is Mitt's Bain-inspired economic worldview one that Ward would approve of?
BTW, in an amazing show of overly sweet irony, the Wall Street Journal has a recipe for faux Hostess cupcakes but made with a high-brow bittersweet chocolate glaze and a white chocolate mousse filling, called Hostess Cupcake 2.0.