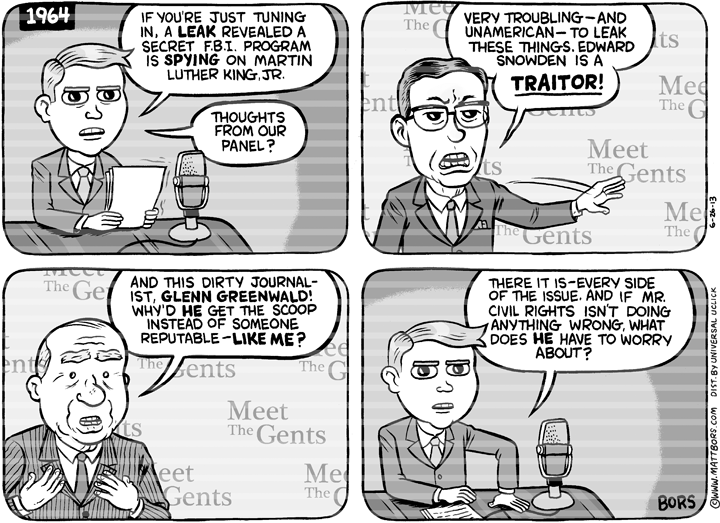 © Matt Bors
Whether you believe Edward Snowden is a hero or a traitor, the whole situation is rife with irony and hypocrisy. As the New York Times points out, it is like an intriguing spy novel come to life, with plot twists aplenty.
Like, the NSA wants us to trust that they won't do anything nefarious with our secrets and private information, yet they hire a high-school dropout who has a pole-dancing girlfriend and give him free access. He's even able to leave the country with laptops brimming with secrets; managing to evade our security apparatus, and end up in places like China and Russia with everything. If an intensely publicly watched person like Snowden can abscond with our secrets, why would we trust the NSA with any of our confidential information? Doesn't it seem obvious that our national enemies and competitors probably have better access than do Congressmen with high security clearances?
I mean, it would not surprise me to learn that Al Qaeda has several moles embedded in every one of our security agencies. How could they not?
Then there is the issue of how our government mishandled the whole situation. Did they really believe that China would extradite Snowden to the US? Or that Russia would? Instead, our leaders are now reduced to calling Snowden names, like "defector", "traitor", and "spy" (seriously?). By treating someone who is obviously a whistle blower as a traitor, we have pushed him to become a traitor. And we look like bumbling idiots who make a mockery of the term "intelligence".