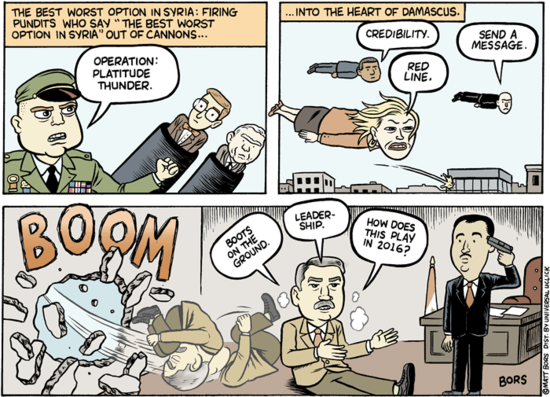 © Matt Bors
Sometimes I think the pundits are trying to make up for the fact that 10 years ago they were pressing their lips against the neo-cons' asses so hard they couldn't see what a disaster Iraq was going to be.
This time around, they are critical of everything. Like, OMG, we found a diplomatic solution that will save lives. But the pundits can't stop talking about how that will make us look weak. And how it makes Putin look good. So what!
A few days ago, hardly anyone wanted to go to war. And now we have a potential solution that will almost certainly achieve far more than any amount of bombing of Syria (with or without boots on the ground). And if this fails, so what? We would be no worse off than we were a few days ago. This is the closest we get to a win-win in this stinking quagmire of Middle-East politics.
I would think everyone (including the Republicans) would be dancing in the streets.
UPDATE: the UN releases its report and concludes that Assad was responsible for the chemical attack on his people. To me, this answers the question of why Assad and the Russians were suddenly willing to destroy Syria's chemical weapons, but it doesn't change my opinion of this diplomatic settlement. Yes, Assad will remain in power and will of course still be free to use conventional weapons against the rebels. But unless we are willing to send in troops and remove Assad by force, and then take responsibility for the country and somehow manage to avoid having Islamic radicals take over, this is the best solution we could hope for.