As most people know by now, the Democrats changed the rules in the Senate to eliminate filibusters against judicial nominees (except for the Supreme Court, which can still be filibustered). This has sometimes (and misleadingly) been called the "nuclear option".
To justify this dramatic move, Senate majority leader Harry Reid released the following graphic: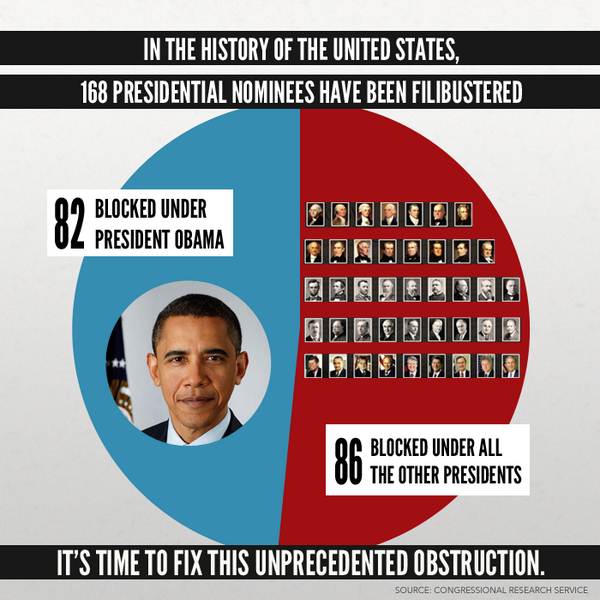 PolitiFact took a look at the numbers, and interestingly enough, determined that Reid had been too conservative. Reid actually understated the situation — he claimed that 82 out of 168 (or slightly less than half) of the filibusters of judicial candidates have occurred during Obama's presidency.
PolitiFact found that some nominees have received more than one filibuster, making Reid's original numbers slightly misleading. If you report it by nominee, rather than by filibuster, then of 147 total judicial nominees who have ever been filibustered, 79 of them (or solidly more than half) have occurred during Obama's presidency. PolitiFact states:
By our calculation, there were actually 68 individual nominees blocked prior to Obama taking office and 79 (so far) during Obama's term, for a total of 147.

Reid's point is actually a bit stronger using these these revised numbers. Using these figures, blockages under Obama actually accounted for more than half of the total, not less then half. Either way, it's disproportionate by historical standards.
PolitiFact gave the graphic a rating of "Mostly True" rather than "True", but it is ironic that their issue with Reid's statement is that it understates the situation. Politicians are normally taken to task because they overstate the truth.