The "Party of No" is at it again. Republicans loudly denounced the deal that the Obama administration had negotiated with Iran, even before they had any idea of what was in it.
The first denunciation came around five minutes after it was first leaked that a deal had been been struck, and hours before there were any details about it. Ironically, this denunciation came from Ari Fleischer, who was press secretary for the president who got us into the (absolutely stupid) Iraq war simultaneously with another (only slightly less stupid) war in Afghanistan. So I guess he should know.
Three minutes later, another veteran of Dubya's administration agreed, calling it "a disgraceful deal" even though he had absolutely no idea what the deal contained.
Then it became even more bizarre. John Cornyn (R-TX, the second most powerful Republican in the Senate) tweeted "Amazing what WH will do to distract attention from O-care". That's right. Even though the deal was negotiated over many months, the Obama administration was somehow clever enough to know back then that they were going to need some distraction from Obamacare. Yeah, that's the only reason they decided it would be a good idea to try to save us from nuclear armageddon. Remember the song "Bomb, bomb, bomb… bomb bomb Iran"?
After that, we got the normal list of anti-Obama loonies, who seem to want to go to war with Iran before we try any diplomacy at all. You know, people like Michele Bachmann (who called it a "total surrender by Obama administration". Then John Culberson (R-TX) confirmed Godwin's law by releasing an image showing John Kerry and his Iranian counterpart juxtaposed with Hitler and Chamberlain.
So, aren't the hawks who are condemning the Iran agreement the same people who supported the war in Iraq? How did that work out?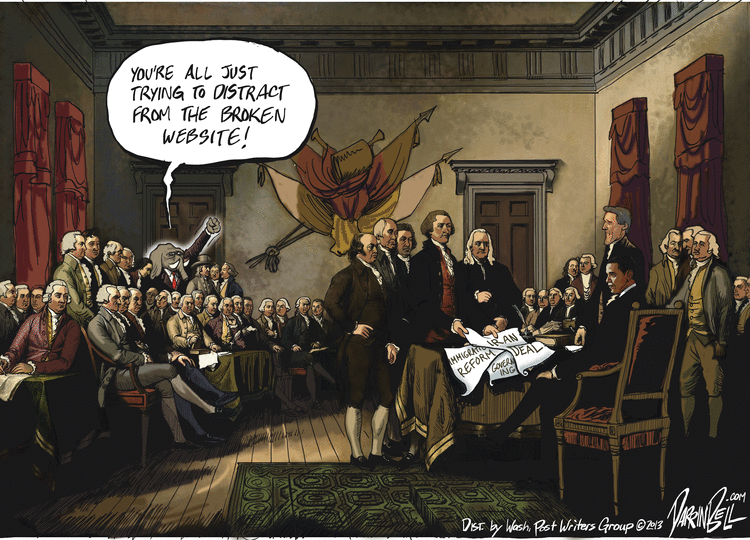 © Darrin Bell