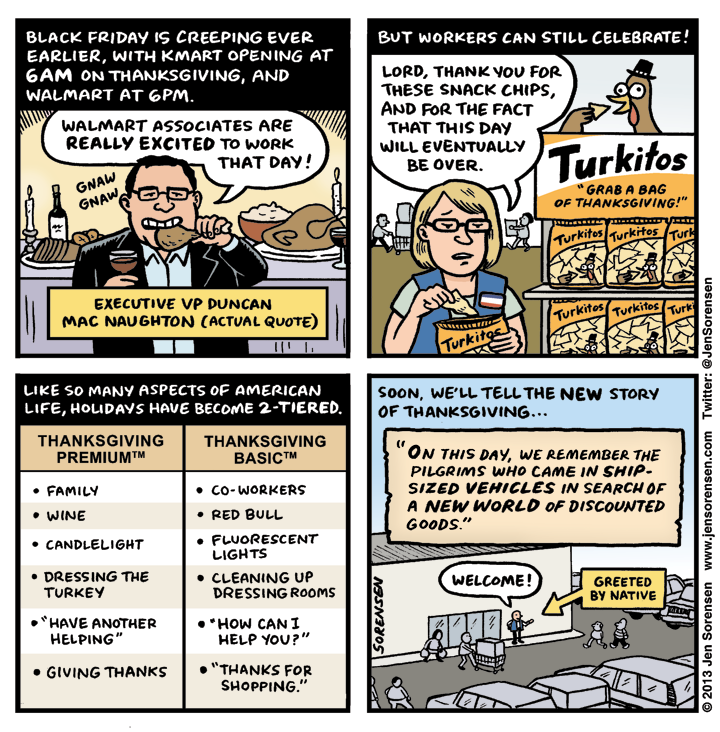 © Jen Sorensen
That's right, not satisfied with waiting until (Black) Friday, several big box retailers are opening their doors on Thanksgiving day. Not just Walmart and Kmart, but also Target, Best Buy, JC Penny, Kohls, Staples, and (of course) Toys R Us. Even venerable Macy's will be open on Thanksgiving Day, for the first time in its 155-year history.
But this might be triggering a backlash. A petition asking Target to remain closed on Thanksgiving has around 100,000 signatures. Even the word "boycott" has been thrown around (in particular, on Twitter). Some groups are planning protests.
Other retailers are not joining the rush. Costco says "Our employees work especially hard during the holiday season, and we simply believe that they deserve opportunity to spend Thanksgiving with their families." And Nordstrom's says "We won't be decking our halls until Friday, November 29. Why? We just like the idea of celebrating one holiday at a time. Our stores will be closed on Thursday for Thanksgiving festivities. On Friday, our doors will open to ring in the new season in style."
Not only does opening early force employees to work on a traditional holiday when they should be spending time with their families, it also affects consumers, who might miss out on early deals if they don't shop that day.