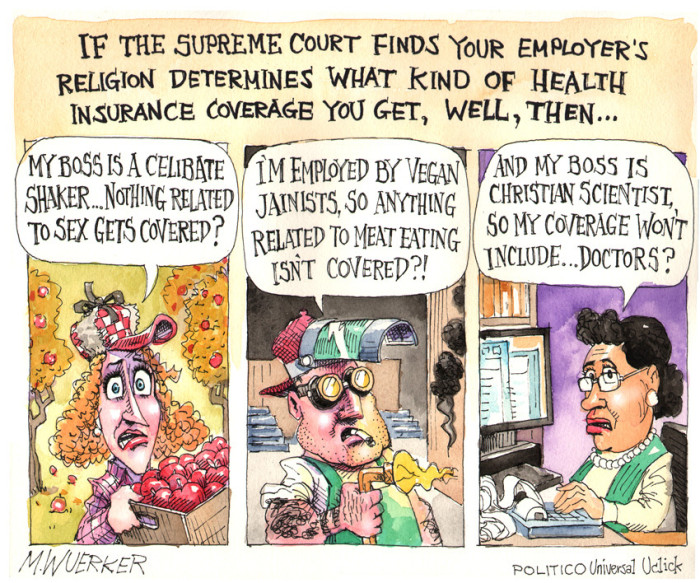 © Matt Wuerker
Yes, the Supreme Court really did temporarily rule that employers can refuse to cover birth control in their health insurance plans based on religious beliefs. For now, the ruling only applies to a few Catholic groups involved in lawsuits challenging the ACA based on their claims that it infringes on their religious rights.
This is one I really don't get. Nobody was forcing anyone to use birth control, so there is no violation of religious rights. And there is plenty of precedent that everyone must follow the law, even if it conflicts with their religious beliefs. After all, polygamy is illegal, even for Mormons who believe in it. And Rastafarians were never exempted from laws that made smoking marijuana a crime. As the comic points out, Christian Scientists don't even believe in going to doctors, but they still have to provide health insurance to their employees.
I'm really surprised that conservatives are taking on this fight. They've been burned in the past by opposing birth control.
What makes this even more ironic is that conservatives are arguing that business owners can impose their religious beliefs on their employees, even employees who do not share their beliefs. Since when is it acceptable for an employer to tell their employees how to live their religious life?
UPDATE: It is worse than I thought. The specific lawsuit that prompted the Supreme Court injunction is from a group that is already exempt from providing contraception as part of their health insurance plan. What they don't want to do is fill out the simple waiver form that exempts them as a religious organization. Why? Because if they do then it will allow their employees to get birth control elsewhere. So the group really is trying to control what their employees can do. If the Supreme Court rules in their favor, then the "religious freedom" of an employer will be placed above the religious freedom of real individual people.