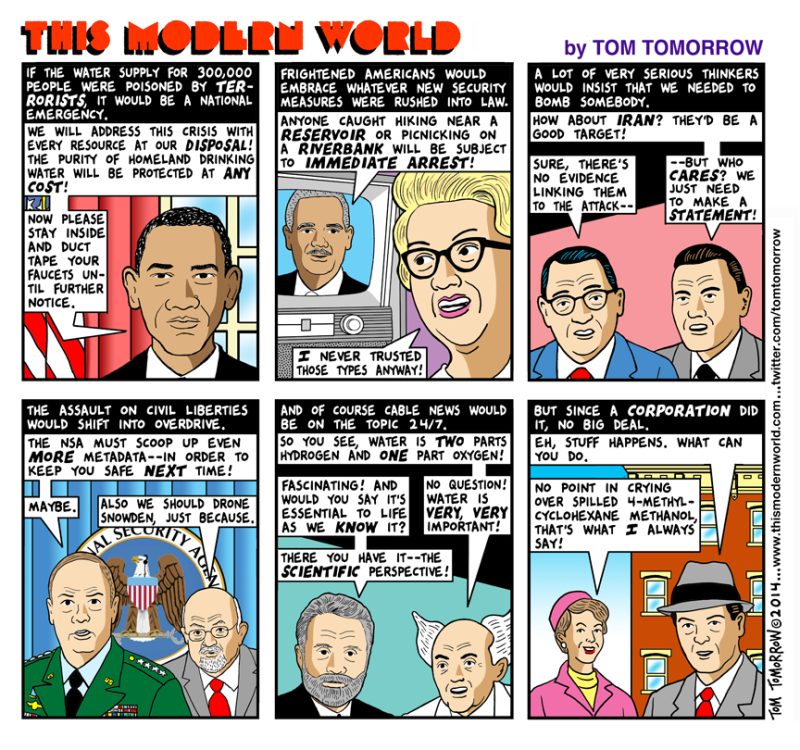 © Tom Tomorrow
I think Osama bin Laden made a (literally) fatal mistake. I mean, he was rich. He should have bought up a bunch of American corporations (including of course some media companies). After all, look at what big corporations have done to our country (and we are only looking at recent events): yes, they negligently poisoned the water supply of hundreds of thousands of Americans, but what about investment bankers nearly destroying our country's economy, killing millions of jobs and wiping out seniors' retirement accounts, not to mention costing us billions of dollars to bail them out?
Corporations also spent an estimated billion dollars on a propaganda campaign to deny climate science and convince us to keep using fossil fuels — estimated because 75% of the funds are untraceable. Who knows, maybe some of that money came from terrorists.
Or bin Laden could have taken over the automobile industry and brought it to its knees, requiring another bailout. Or how about causing a housing bubble, creating widespread homelessness? Oh wait, he didn't need to do those things, we did them for him!