Russia is having a good laugh at the US at us imposing sanctions against Russia for annexing Crimea. According to a foreign policy aide at the Kremlin "These sanctions are already a bore, they truly cause a sense of irony and even sarcasm." Another aide compared the sanctions to a "political Oscar" that he is proud of.
Why? How absolutely hypocritical is it of the US to condemn Russia? At least they had the decency to go through the motions of a referendum in Crimea to justify the transfer of Crimea to Russia. Did we do anything like that before we invaded Iraq or Afghanistan? Or killed innocent civilians in countries that are supposedly our allies using drones? Or use torture in violation of international law?
Or as Ron Paul put it:
Critics point to the Russian "occupation" of Crimea as evidence that no fair vote could have taken place. Where were these people when an election held in an Iraq occupied by U.S. troops was called a "triumph of democracy"?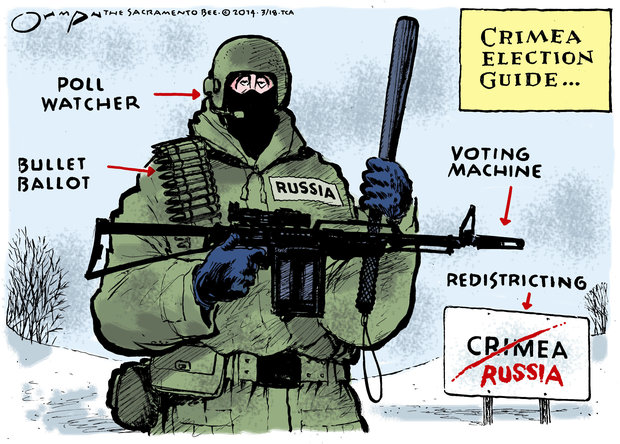 © Jack Ohman