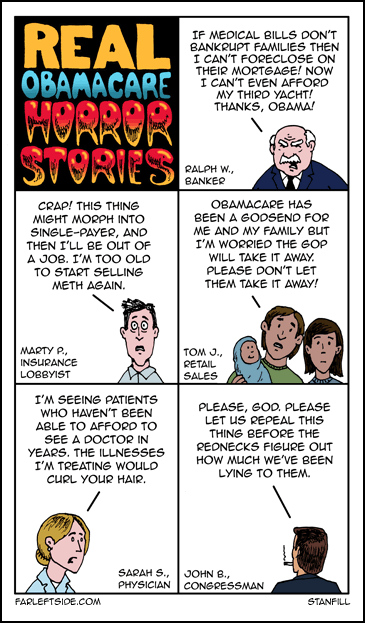 © Mike Stanfill
I have an actual Obamacare horror story to add to this comic. In Michigan, Democratic senator Carl Levin is retiring, leading to one of the most hotly contested races for control of the Senate. Republican Terri Lynn Land has been leading in the polls against Democrat Gary Peters for the last couple of months.
Then the SuperPAC Americans for Prosperity started blanketing the state with some misleading ads attacking Representative Peters for his support for the ACA. The ad featured a woman suffering from cancer telling a supposed Obamacare horror story — claiming that Obamacare is unaffordable and even potentially life-threatening for her. But when fact checked, it turned out that she was actually saving over a thousand dollars a year for her medical treatments (while getting to keep her same doctor and getting better coverage).
The ads backfired. As a result, the next poll for the race showed that Peters had gained 8 points against Land, and was now leading in the race.
Then it gets even more interesting. Sensing an opportunity, Democrats blasted the Koch Brothers (the primary funders of Americans for Prosperity) for the lies about Obamacare in their ads. Americans for Prosperity fired back, trying to shame Democrats for picking on a woman with cancer. Then they doubled down, running a new ad featuring the same woman, but changing the wording so that they didn't say anything that was fact checkable (e.g., that Obamacare is unaffordable), but instead substituting vague language that her new plan "just doesn't work for her" (it doesn't matter if saving money and getting better coverage doesn't work for her, you still can't fact check a subjective statement like that). However, the fact checkers at the Washington Post responded to the new ad by giving it three Pinocchios instead of two.
Republicans have been using the one-trick pony of attacking Obamacare in order to win elections. Now that strategy seems to be backfiring. What do they do now? Now that's a true Obamacare horror story!
Indeed, business magazine Forbes ran an op/ed piece titled "The Real Numbers On 'The Obamacare Effect' are in – Now Let the Crow Eating Begin", which points out that pretty much every attack Republicans have made against the ACA has turned out to be false.
Remember all the attacks claiming that Obamacare was a job killer, and that employers would be forced to reduce their workforce hours to less than 30 hours a week in order to avoid having to provide health insurance benefits to their employees? Well, the latest figures from the Bureau of Labor Statistics show that the number of part-time employees in the US has actually fallen by 230,000 in the last year (the time during which Obamacare was implemented), while full-time employment went up by 2 million jobs. Ironically, the numbers would have been even better, except that the only sector where hours were reduced were government workers (such as cops, teachers, and prison guards) because cities, states, and universities had to cut expenses (why? because Republicans fought every attempt to raise government revenues).
Who's the real job killer?