"When the rate of return of return on capital exceeds the rate of growth of output and income, as it did in the nineteenth century and seems quite likely to do again in the twenty-first, capitalism automatically generates arbitrary and unsustainable inequalities that radically undermine the meritocratic values on which which democratic societies are based." – quote from the book "Capital in the Twenty-First Century" by economist Thomas Piketty.
Even though the book is 700 pages long and is translated from the original French, it has hit #1 on the Amazon best sellers list. Nobel prize winning economist Paul Krugman calls it a "magnificent, sweeping meditation on inequality" that "melds grand historical sweep with painstaking data analysis". The book uses pioneering statistical techniques to track the history of income inequality, back as far as the late 18th century in some cases.
And what he found was that the income going to the 1% is now back to where it was a century ago. Even worse, our income inequality is not based on merit (as some would claim), but is once again being passed down through family dynasties.
Which sounds awfully like the situation we were in just before the great depression.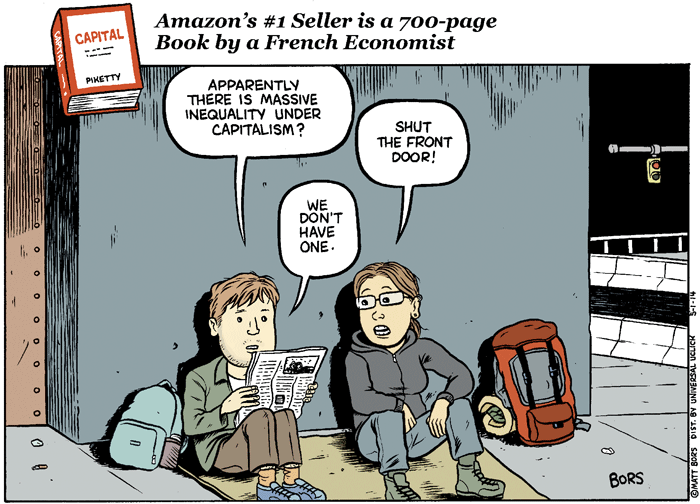 © Matt Bors