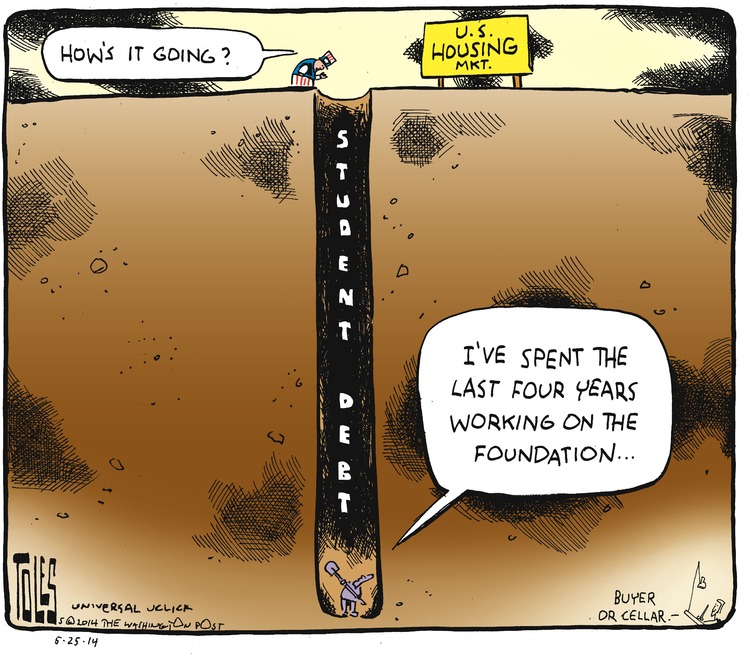 © Tom Toles
In the last ten years, the total level of student loan debt has gone from $300 billion to $1.1 trillion. And we are now learning that this level of debt among people just starting to enter the real economy is significantly hurting the economy.
It makes perfect sense – people with crushing student loans can't afford to buy a house, so this is hurting the housing market. Just since 2008, the number of 27- to 30-year-olds with a mortgage dropped from 30% to 22%. They are also less likely to buy cars.
Even worse, they cannot start their own businesses, and since 60% of jobs are created by small businesses, there is a long-term negative effect on employment and the economy.
Other countries subsidize college educations, or even provide it for free.
And it isn't just our shortsightedness about higher education that is turning around and biting our economy in the ass. There is plenty of evidence that each homeless person costs taxpayers $31,065 a year (in emergency room visits, and homeless-related crimes), while it would only cost around $10,000 to house them. And after spending that $30K+, they are still homeless and less likely to have a job and otherwise contribute to the economy.