One might even say that he isn't very gay.
It was bad enough yesterday when the Supreme Court deflected a challenge to Obamacare (over his vigorous dissent), but today it legalized same-sex marriage in the whole country. In Scalia's dissent to the gay marriage ruling, he quoted from the majority opinion and gave his version of sound legal advice: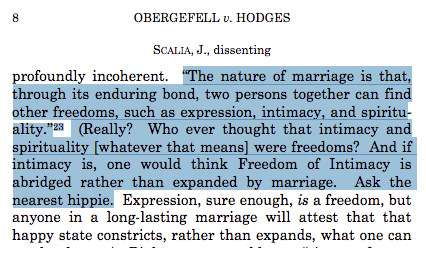 Fortunately, history has passed Scalia by. Gay marriage is no threat to our country (it is a boon), and hippies haven't been called that for a very long time. The new theory is that "Scalia has been a secret goth this whole time".