The Family Research Council (FRC) says that their mission is "to champion marriage and family as the foundation of civilization, the seedbed of virtue, and the wellspring of society", which is social conservative speak meaning that they fight against same sex marriage. They seem to be losing the gay marriage battle, and it sounds like they aren't doing so well on the family front either.
You may have heard about the scandal in July, when their executive director Josh Duggar, who was also one of the kids on the TLC reality TV show "19 Kids and Counting", was accused of having molested five underage girls starting in 2002, four of whom were his sisters.
Duggar tried to absolve himself of past wrongdoing by posting the following to his Facebook page:
Twelve years ago, as a young teenager I acted inexcusably for which I am extremely sorry and deeply regret. I hurt others, including my family and close friends. I confessed this to my parents who took several steps to help me address the situation. We spoke with the authorities where I confessed my wrongdoing and my parents arranged for me and those affected by my actions to receive counseling. I understood that if I continued down this wrong road that I would end up ruining my life. I sought forgiveness from those I had wronged and asked Christ to forgive me and come into my life. I would do anything to go back to those teen years and take different actions. In my life today, I am so very thankful for God's grace, mercy and redemption.
Duggar resigned from the FRC and TLC cancelled the show.
But wait, there's more! Hackers just uploaded information from the website Ashley Madison, a "dating" site for people who want to cheat on their spouses (their motto is "Life is short. Have an affair.") It turns out that a credit card in Duggar's name was used to pay for not one but two memberships in the cheating site, one using the address near DC where he and his family lived when he was lobbying for the FRC, and the other for the house featured in the TLC TV show. The two memberships overlapped by a few months, but Duggar had at least one active membership from February 2013 until May 2015 (just before the scandal broke).
That means that during the time Duggar was the executive director of the FRC and appearing in a reality show about a devout religious family, he spent around a $1000 on memberships to a cheater's website, which was important enough that he needed two memberships, one for when he was doing his FRC job, and one for when he was home with his family. It also looks like Duggar had an account on another dating site, OkCupid.
So much for God's redemption. He might have stopped molesting children a decade ago, but he was still cheating on his wife up until a few months ago. But I do have to agree with Duggar on one thing. On Thursday Duggar posted on the family's website admitting that he cheated on his wife and saying that he is the "biggest hypocrite ever".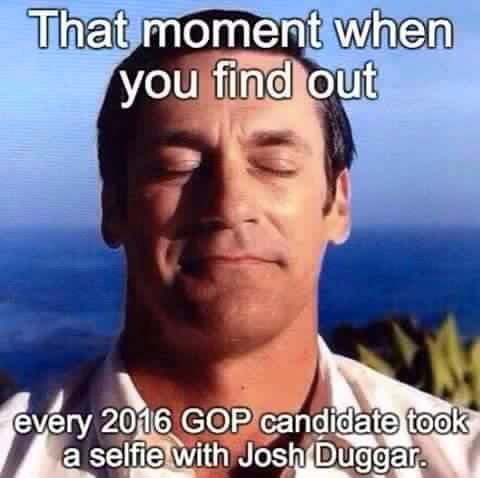 Is this true?