Ten years ago, Dubya signed the Energy Policy Act of 2005, which included massive giveaways to the oil, gas, and nuclear industries. But the most infamous part of the law became commonly known as the "Halliburton Loophole" (named after the corporation led by Dick Cheney before he became vice-president). Indeed, the law was championed by Cheney and Kenneth Lay. Lay was the soon-to-be-disgraced founder and head of Enron, which was shut down because of massive fraud and corruption.
And yet we still have the Halliburton Loophole, which helped usher in the current disastrous era of oil and gas fracking. The loophole exempted the oil and gas industries from critical sections of the Safe Drinking Water Act of 1974 and the Clean Water Act of 1972.
Fracking involves blasting millions of gallons of water mixed with toxic chemicals into wells to break up the rock, freeing oil and natural gas. Hundreds of peer-reviewed medical studies have linked fracking to cancer, asthma, and birth defects. The toxic chemicals contaminate drinking water. Over 270,000 wells have been fracked, and over 10 million Americans live within a mile of a fracked well.
And all of this was made possible by almost a billion dollars in lobbying by the energy companies.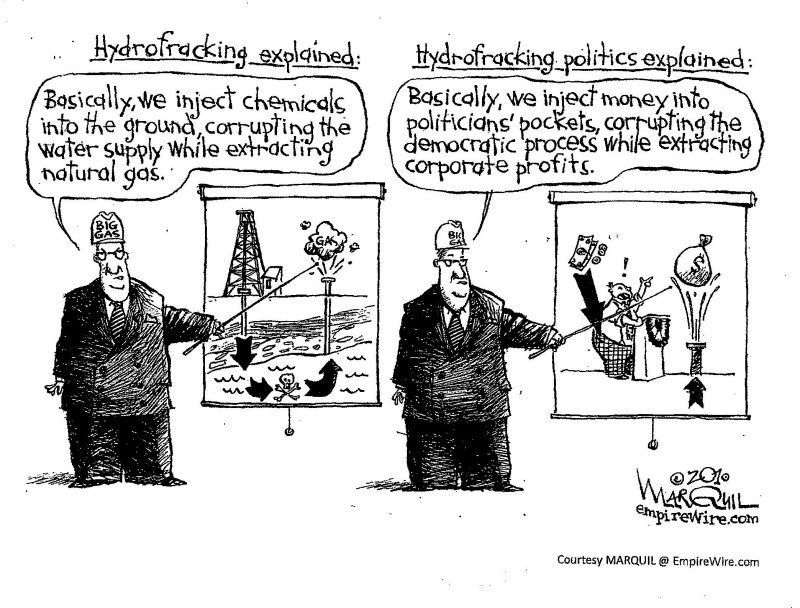 © Mark Wilson