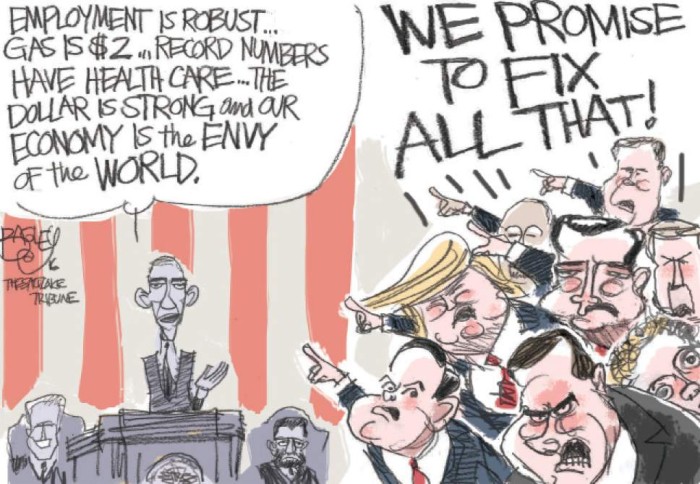 © Pat Bagley
Here's a good summary of Obama's final State of the Union address.
Right-wing media has convinced a lot of people that Obama is destroying our economy, sending illegal immigrants to take our jobs, waging war on Christmas, and plotting to take away our guns. But when you are dealing with voters who actually believe that Obama is a Muslim and wasn't even born in this country, how are you going to get them to open their eyes to the fact that greedy and powerful people and organizations are using blatant propaganda to get us to vote against our own interests. Indeed, the worst thing you can say about Obama is that maybe he is not fixing the mess left by the last Republican administration fast enough.
UPDATE: I gained respect for Nikki Haley in her response to the SOTU, for her willingness to tell conservatives to "turn down the volume" of hate against immigrants. Of course, conservatives responded by turning up the volume. Ann Coulter tweeted that we should "Deport Nikki Haley" and called Haley an "immigrant". Haley was born in South Carolina to parents who immigrated from India.