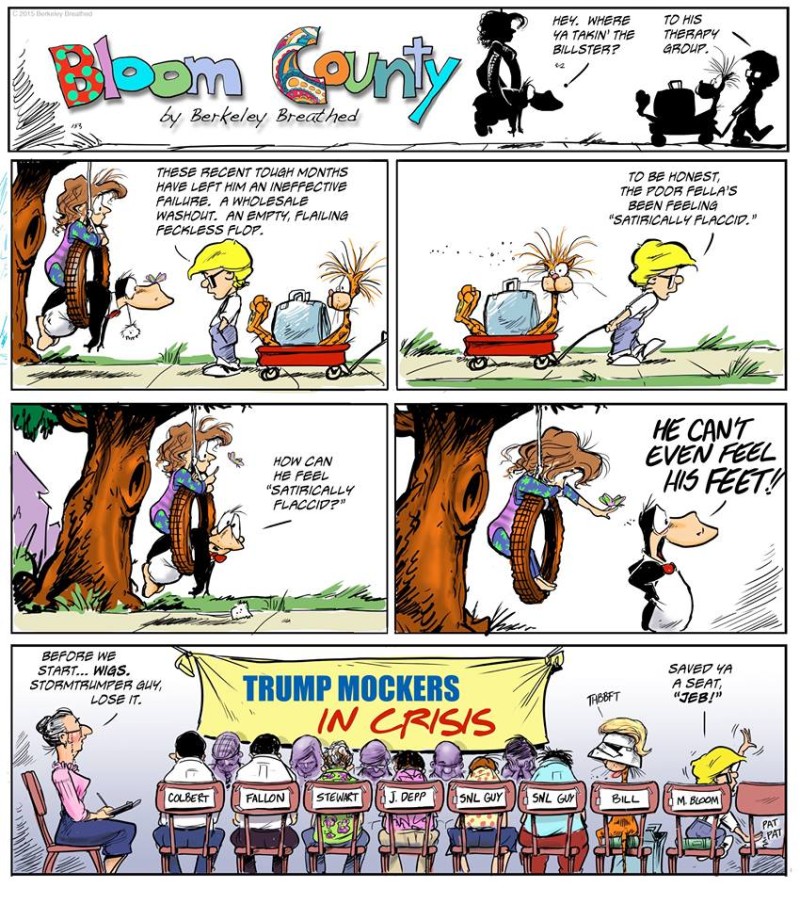 © Berkeley Breathed
What a strange situation in which we find ourselves. Nobody ever took Donald Trump seriously. Especially not the media, who were pretty much responsible for creating him. Not even Fox News.
The Republican party is still in denial. The establishment just knew that if they ignored Trump, he would crash and burn before things got too serious. Their timid attempts to help him crash only backfired.
Even Trump got caught up in his own reality-distortion field. At one point he thought he could take on the Pope.
Trump could still crash and burn, but assuming he doesn't and he becomes the Republican nominee, what then?
What do the Democrats and their presidential nominee do? They can't afford to not take Trump seriously.
The big problem is that ever since Reagan said that "Government is not the solution to our problem, government is the problem" the Republican Party, Fox News, the Koch Brothers, Wall Street, and big business have been spending billions of dollars trying to convince Americans that anyone even vaguely associated with the Washington elite is tainted and worthless. Never mind that this anger is expressed as "Government, keep your hands off my Medicare and Social Security".
Random anger doesn't make sense. In fact, people are so much easier to manipulate when they are angry and confused.
Until they aren't, and it backfires.
UPDATE: My favorite journalist, Matt Taibbi, has a fantastic rant "How America Made Donald Trump Unstoppable".