Could this election get any weirder? You bet it could! What makes this totally ironic is that it is completely constitutional, while being downright bizarre.
Even if (more likely when) Donald Trump becomes the GOP nominee for president, and even if (god forbid) he can win a clear majority of the popular vote, there is a way that he could be denied the presidency. Yup, by the Electoral College.
In fact, people like Trump are pretty much the reason the founders created the Electoral College. They simply did not trust the people to elect the president. They worried that "a popular election … is radically vicious" and that the people "being too little informed of personal characters" are "liable to deceptions". Sound familiar?
Instead, each state appoints "electors", who meet and elect the president. According to the constitution each state appoints its electors "in such Manner as the Legislature thereof may direct". Some, but not all, states have laws that require their electors to vote for the person who got the largest share of the popular vote in that state. But such laws can be easily changed.
So here's an example of what could happen. The Texas legislature (controlled by Republicans) could vote to take back the power to pick its electors. Then, on Election Day, they would pick electors who would vote for their chosen candidate. The candidate could be anyone: Mitt Romney, Rick Perry, Condoleezza Rice, or even (yikes) Ted Cruz. It doesn't have to be someone even running for president because of what happens in the next step. Let's say they pick Condoleezza Rice.
The constitution does require a candidate to receive a majority of votes in the Electoral College. Without the votes of the 38 electors from Texas, it is virtually certain that nobody will get a majority, and the constitution stipulates that in that case, the House of Representatives picks the president from the top three electoral vote-getters. Condoleezza Rice is the third highest vote-getter, so the (Republican controlled House) picks her. She becomes president.
Note that it doesn't matter if Trump wins the popular vote. It doesn't even matter if the Democratic nominee (e.g., Clinton) wins the popular vote. The GOP just needs a small number of states whose legislatures they control to change the way they pick electors, and then the Republicans in the House to privately agree on who they want to elect. Done.
Would all hell break loose? Of course. But it is completely constitutional, and there is precedent for states taking back control of how they appoint electors, and even blessing from the Supreme Court for doing so.
Consider it the ultimate "nuclear option". And more foolproof than a brokered convention.
So the Republicans can do it. Would they? Would a party that shuts down the government in order to get their way even blink? And we would have nobody to blame but ourselves, because we elected these people.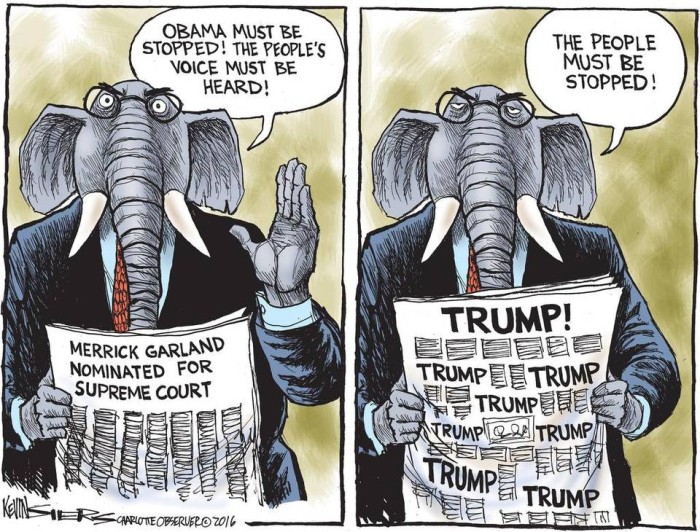 © Kevin Siers