Recently the nonpartisan Tax Policy Center published an analysis of the tax plans that each current presidential candidate has promised to enact (note that John Kasich has not published a tax plan). Mind you, it is Congress, not the president, who sets tax rates, but the president does have a fairly powerful bully pulpit from which to influence Congress on taxes. But regardless of that, this is each candidate's stated goals, and it will be what the candidates will be judged on by voters in the election.
The friendly folks at Vox have taken all these numbers and turned them into graphs. In this graph, it shows how each candidate's tax plans will affect the taxes paid by the top 0.1%, which is households that earn more than $3.7 million per year. The numbers are how much more each household will pay in taxes.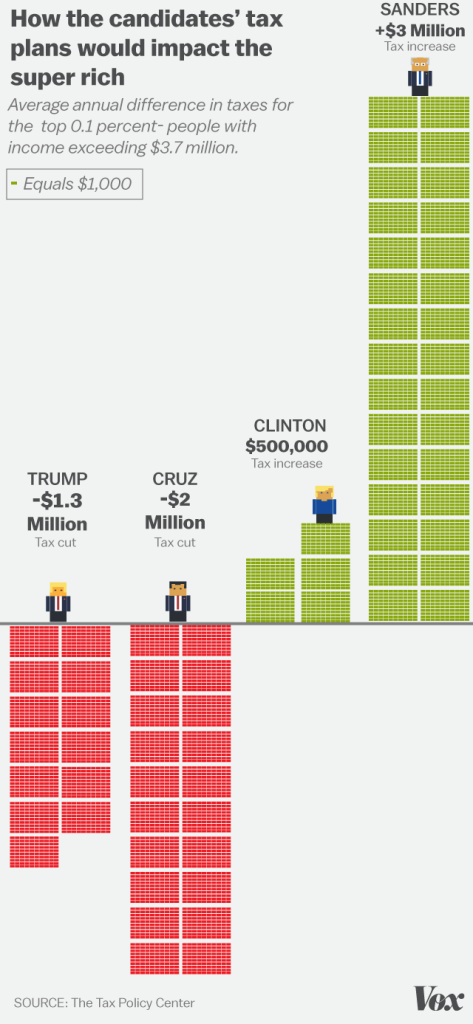 Clearly, the Republicans plan on dramatically cutting taxes for the wealthy (Cruz by $2 million per household), while the Democrats plan on raising taxes on them. But there is also a sizable difference between Clinton and Sanders. Sanders proposes that households whose income exceeds $3.7 million will pay an average of $3 million in additional taxes, while Clinton proposes they pay half a million more. Indeed, Clinton's proposal is the most moderate and least disruptive proposal of all the candidates from either party. According to the calculations, "Under the Sanders plan, those at the top of the income scale would see their after-tax income fall by almost 45 percent".
To make these numbers more meaningful, the tax plan proposed by Sanders would raise $596 billion just from the top one percent of households, which is more than the entire military spending budget in 2015 $583 billion). Clinton's plan would raise $89 billion from the same group, which is more than the cost of the federal food stamp program ($78 billion). Cruz's program would give $463 billion to the top one percent of households. Trump's program would give $312 billion to the same group, which is less than Cruz's plan, but Trump refuses to cut any spending, so he wins the "award" for the plan that would drive up the deficit the most.
Finally, this graph shows how much the tax rate (in percent) would change for the top 0.1% under each candidate's plan (in absolute change):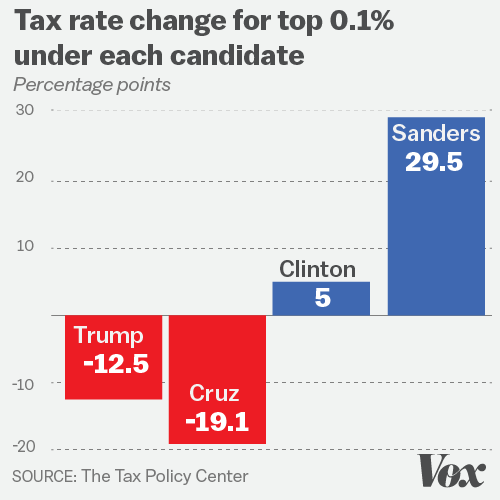 So for example, if a (wealthy) household is paying 30% of their income in federal taxes, Sanders would (on average) change that to have them pay 59.5%.