This is ironic – an article titled "Republicans, Apologize to Bill Clinton". No, it wasn't written by a Democrat (not even by Hillary Clinton). It was written by influential conservative Erick Erickson. His point:
Seventeen years after Republicans impeached Bill Clinton for covering up an affair, they are handing their party over to a man who has openly bragged about his affairs. On the day the Republicans first meet in Cleveland, Donald Trump will be taken to court for allegedly defrauding hard working Americans through Trump University.
On the campaign trail, Trump was more a pathological liar than Bill Clinton ever was. He smeared his opponents, their wives, and their families. He embraced 9/11 trutherisms that George Bush was to blame for the attacks, he peddled malignant, false stories about Ted Cruz's father, and few Republicans ever called on him to account. Many gave him passes on the lies they would never give to Bill Clinton.
Republicans owe Bill Clinton an apology for impeaching him over lies and affairs while now embracing a pathological liar and womanizer. That apology will not be forthcoming. In fact, for years Republicans have accused the Democrats of gutter politics and shamelessness. Now the Republicans themselves have lost their sense of shame.
Bottom line?
The party that fancies itself as the grown up party has handed itself over to a huckster with a cult of ill behaved children.
I can see his point. The Republicans impeached Bill Clinton for having an affair and for lying about it. Now they have nominated a man who brags about his affairs and lies so casually it takes your breath away. Not to mention is so racist he purposely incites violence.
Is Trump still a womanizer? Or is his third marriage "the charm"? I sincerely doubt age has changed him. For Cinco de Mayo, Trump tweeted a tacky photo of himself eating a taco salad. The accompanying text was pure Trump: "Happy Cinco de Mayo! The best taco bowls are made in Trump Tower Grill. I love Hispanics!" Always the self-promoter, and claiming to love Hispanics, after he has repeatedly called Mexican immigrants "rapists" and criminals.
If you look more closely at the image, you can see that he does love something.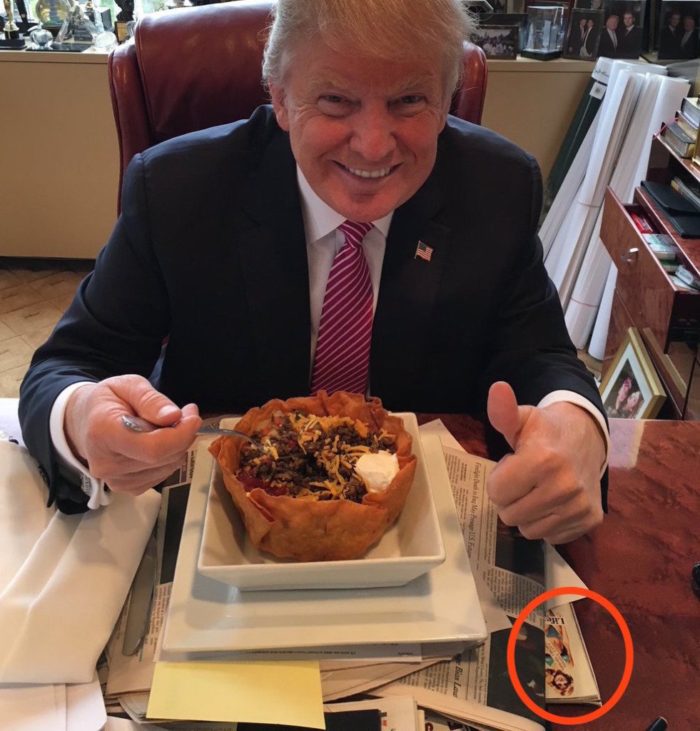 Down in the bottom right is a photo of a woman in a bikini. And the woman has been identified as Marla Maples, Trump's second wife, with whom he had a "scandalous affair" while he was married to his first wife. Still keeping tabs on her I guess. Did he do this accidentally, or purposely?