The UK Brexit vote has politicians and pundits theorizing about how that vote, and the ensuing economic turmoil, could have any parallels in Donald Trump's campaign for the US presidency. After all, both Trump and Brexit are fueled by anti-immigrant sentiment and isolationist reactions to increasing globalism.
For a minute, let's ignore the irony of Trump promoting his golf courses in Scotland while condemning globalism (you know, pretend that he really does believe the things he is saying). Do the arguments about Brexit also apply to America?
My answer is that it doesn't matter. We have a much better analogy right here in the US of A. And that analogy is Kansas (home of the Koch brothers).
In 2011, Republican Sam Brownback was elected governor of Kansas, along with such a strong majority in the legislature that they ran out of Democrats to hate and started getting rid of the moderate Republicans. And then they implemented the GOP dream agenda. They passed massive tax cuts for the rich, repealed corporate taxes, slashed business regulations, cut spending on education and welfare, rejected federal Medicaid money, and even privatized Medicaid services.
One of the architects of the Kansas "revolution in a cornfield" was the father of trickle-down economics, Arthur Laffer, who promoted the (repeatedly debunked) theory that cutting taxes would increase government revenue. Brownback also hired as his budget director the guy who created the budget model for the Koch Brothers' Americans for Prosperity.
Brownback's goal was to take the conservative dream nationwide, saying "My focus is to create a red-state model that allows the Republican ticket to say, 'See, we've got a different way, and it works.'"
Well it didn't. Job growth in Kansas sucked, even compared to neighboring states. Tax cuts caused huge state deficits. Infrastructure crumbled. Personal income growth slowed dramatically and income inequality increased. Schools ran out of money and closed. The state's bond rating was downgraded. Kansas started 2016 by entering a recession; their current GDP is still less than it was at the end of 2011.
Things are so bad that companies are actually moving to other states, taking their jobs and revenues with them.
But isn't that just Kansas? Could the same thing happen in other states? Yes, it could. Louisiana did almost exactly the same thing under Bobby Jindal with even worse results. And Wisconsin famously elected union-buster Scott Walker and their economy suffered, especially compared to neighboring states.
So conservative economics didn't work, but that doesn't necessarily imply that liberals could do better. Except that we have an example of a state that did just that, California. And it had another parallel with Trump, as California had previously elected a celebrity with no political experience, Republican Arnold Schwarzenegger, who as governor promised to lead California back to greatness without raising taxes, but ended up a disaster for the state. Things in California were so bad that Republicans used it as the butt of economic jokes.
In 2011, the same year that Kansas elected Brownback, California elected Democrat Jerry Brown as governor and gave the legislature a strong majority. The Democrats raised taxes on millionaires to the highest in the nation. Conservative economists (like the ones who predicted an economic boom in Kansas) predicted this would cause a huge slowdown in growth and other economic problems.
Wrong again. California turned their deficits into budget surpluses, and their economic growth tied for best in the nation. In fact, the economy of California has grown so much that it surpassed the entire country of France, becoming the sixth largest economy in the world.
But that's just California, right? No, we have another example. At the same time that Wisconsin was trying to become a conservative paradise, neighbor Minnesota switched to a Democratic governor. Bottom line is that when you compare states that swung Republican (like Kansas, Louisiana, and Wisconsin) against states that became Democratic (like California and Minnesota), the Democratic-run states all did far better at job creation and overall economic performance.
These are real results, and this needs to be the message of the Democratic party. And not just for the presidential election (although it is easy to do the same comparison of the economy and jobs under Obama compared to Dubya). This needs to be the message at the congressional and state level. If we let the Republicans get away with destroying our economy with false promises, then we deserve what we get.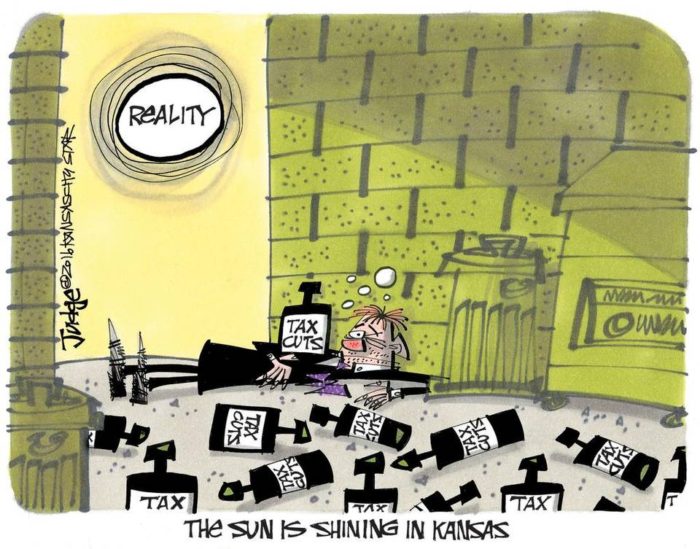 © Lee Judge