Electoral Vote has a bunch of must-read posts today.
The first one offers a likely explanation of why Trump suddenly rearranged his campaign and put Stephen Bannon in charge — someone who has no experience running a political campaign. It is because Trump needs money (perhaps not for the campaign, but for himself) and his largest (perhaps only major) donors are Robert Mercer and his daughter Rebekah Mercer. But their money came with strings attached; one of those strings was Bannon (and likely also Kellyanne Conway, the other big change to the campaign). Bottom line? "The Mercers basically own this campaign."
Next up, The Hill sent reporters to find out what Republican politicians think of Trump's appointment of Stephen Bannon as his campaign's CEO. They are "close to apopletic" and "scared to death". Bannon not only lies as much as Trump, but he is just as likely to attack Republicans as Democrats. For example, Bannon ran headlines claiming that Paul Ryan was losing in the primary, when in reality he won easily. The Republicans hate Bannon, and his appointment makes it even more likely that the GOP will abandon Trump.
Indeed, the next post is a list of articles and theories that Trump is actually not interested in becoming the next president. It was all fun when it was enhancing his brand during the primary, but now it is becoming clear that "the thrill is gone". Trump is allergic to looking like a loser, so what can he do? In the end, Bannon will allow Trump to have some fun being Trump, and go down in glorious flames spending the rest of the campaign hurling insults and anyone and everyone. And after that, Trump can whine that he was the victim of the mean old GOP.
There are more posts, and they are all worth a read. The headlines alone are worth it: "Trump's Casinos Owed $30 Million in Taxes, but Christie Forgave Most of It", "Would Cutting Trump Loose Help Republicans Downballot?" and "Could the House Be in Play?".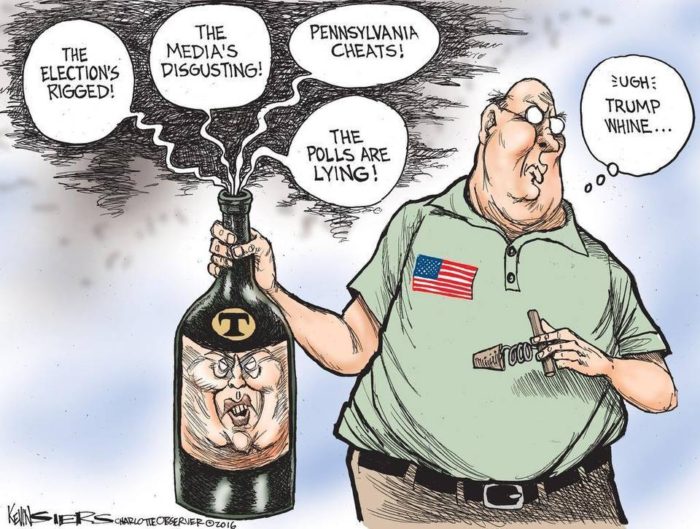 © Kevin Siers
UPDATE: I take most of what Michael Moore says with a huge grain of salt, but you might want to read his theory that Trump is sabotaging his own campaign.