I'm sure everyone heard the news that the FBI is once again looking into Hillary Clinton's email problems. But the real question is, which news did you hear?
As Wired points out, most of the reporting on this has been misleading at best.
In one huge example, if you believed that the FBI was re-opening their investigation into Clinton's email you could be excused, because even NBC News got that wrong. The FBI did NOT announce that they were reopening the investigation. NBC changed their story moments later, but on the internet, by then it was too late. Other, more right-wing news sources are still reporting misinformation.
Or you could believe that they found more missing emails. Nope. Or that the emails they found were from Clinton's private server. No again. Or that the emails contain classified information. Wrong. Or even that the emails are related to the closed Clinton investigation. Negative.
And if you were listening to Donald Trump, you might believe that the FBI was admitting they were wrong when they cleared Clinton of any wrongdoing back in July. But (big surprise), Trump was misrepresenting reality.
In fact, depending on your agenda, you can make of this story almost anything you want:
Are you a Trump supporter looking for a smoking gun? Here you go. Or maybe you're a different kind of Trump supporter, the kind who thinks this is a conspiracy to distract from the real issues coming out of Wikileaks? Hot-take reactions accept all kinds! Are you a Bernie Sanders-type who's sick of hearing about her "damn emails?" Well, then you might view this as the FBI being overly cautious.
If you doubt any of this, just read the original (short three-paragraph) letter from James Comey.
My big question is, given that Comey isn't really saying anything that significant and isn't offering any details at all, why did he feel the need to reopen this can of worms just 11 days before the election? As Electoral-Vote points out, there is no good answer to this question:
Indeed, it's difficult to conceive of an explanation here that doesn't make Comey look at least a little bit bad. He's Republican, and maybe he's trying to help the Republican candidate? Or, maybe he's smarting from the criticism he received when deciding not to prosecute, and is trying to throw a bone to Congressional Republicans? Or maybe he's trying to prove that he does his job as he sees fit, and politics be damned? In any of these scenarios, he would be giving top priority to his own needs, or to his own image, or to his agency's image.
And if Comey wasn't aware that he was throwing a monkey wrench into the presidential election, then he is incompetent.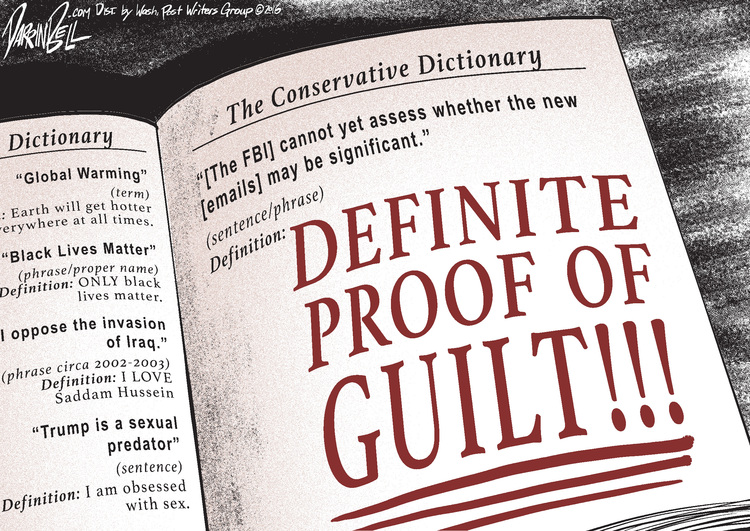 © Darrin Bell
---
Also published on Medium.