Holy Freedom Fries!
France is currently in the middle of of their presidential election, and it is full of drama. The conservative front-runner was recently implicated in a corruption scandal, which has created openings both on the far right (nativist Marine Le Pen) and the left (radical centrist Emmanuel Macron). But voters are unhappy.
And some of those voters are trying to find a "white knight" to come in and rescue them from this mess. Except that their knight is actually black. And he isn't even French. It is Barack Obama.
In the past week, posters have gone up around Paris with the slogan "Obama17" and "Oui On Peut", which is French for "Yes We Can".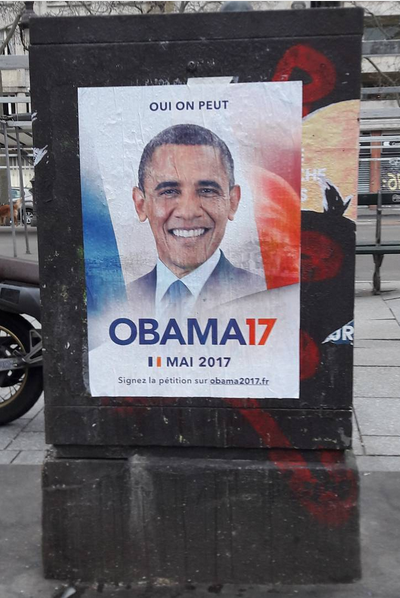 They also have a website, urging voters to sign a petition to draft Obama. They hope to get a million signatures from people who promise to vote for him.
Here's some of the (translated) text from their site:
The French are ready to make radical choices. That is good because we have a radical idea to propose to them.

After five years and faced with the announced failure of the next presidential election, we think it is time to move to the 6th Republic to get France out of its lethargy.

To launch this 6th Republic, we wish to strike a blow by electing a foreign President at the head of our beautiful country.

Barack Obama completed his second term as President of the United States on January 21 — why not hire him as President for France?

Our goal is simple, to collect before the 15th of March, 1 million voting promises to convince Barack Obama to run for the presidential election of May 2017.

– Barack Obama has the best resume in the world for the job.

– Because it is still possible to vote for a President and not against a candidate.

– Because at a time when France is about to vote massively for the extreme right, we can still give a lesson of democracy to the planet by electing a French President, a foreigner.
---
Also published on Medium.