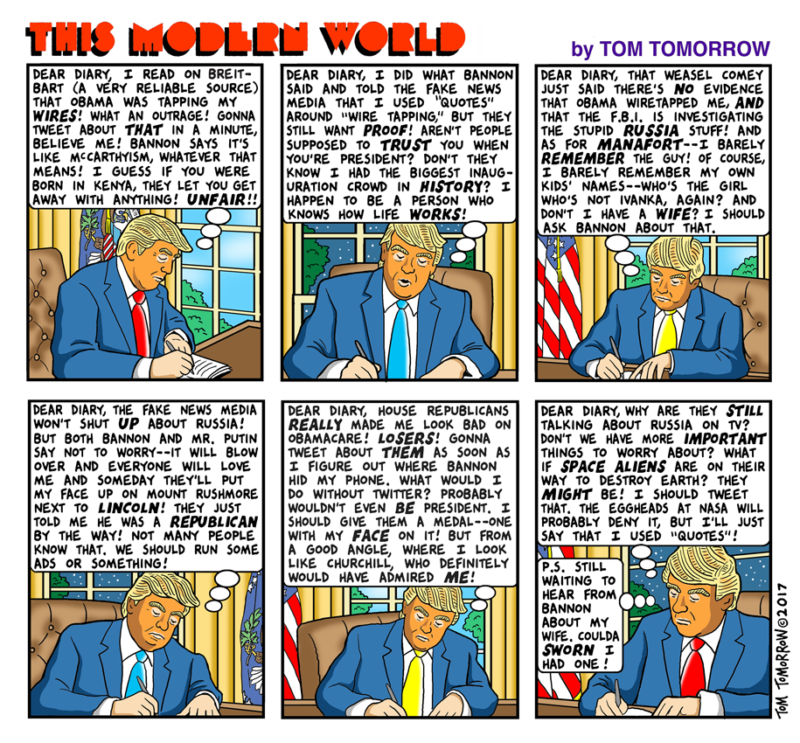 © Tom Tomorrow
Indeed, Donald Trump must be very unhappy. His approval rating has dropped to 36%, the lowest of his young presidency.
And more questionable Russian connections keep appearing. The latest news is that Trump's son-in-law Jared Kushner met with the chairman of the Russian state development bank after the election but before Trump became president. The bank chairman was appointed by none other than Vladimir Putin less than two years ago, and he used to work at the FSB (which replaced the KGB), where Putin worked as well. What makes this really questionable is that that is one of the banks that was sanctioned by the US after Russia invaded Crimea. Why was Kushner meeting with them? We may never know.
Meanwhile, the Republicans are in disarray after their repeal of Obamacare fizzled. Adding insult to injury, Trump lashed out at both the conservative Freedom Caucus and at the moderate Republican "Tuesday Group", pissing them off even more.
And finally, the White House itself is in shambles, with internal factions stabbing each other in the back and blaming each other for a toxic environment of dysfunction.
---
Also published on Medium.