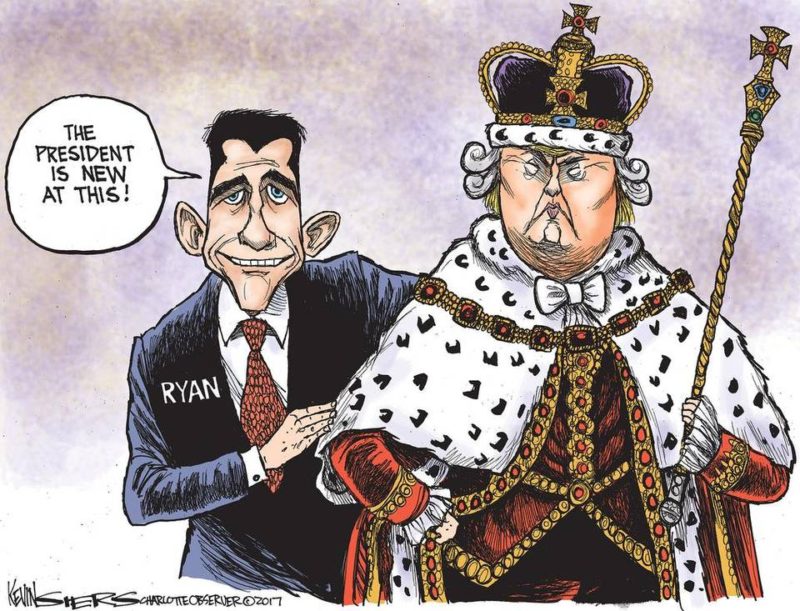 © Kevin Siers
Paul Ryan is defending Donald Trump's attempts to interfere with FBI investigations (commonly called "obstruction of justice") by claiming that Trump just didn't know:
Of course, there needs to be a degree of independence between [the Department of Justice], FBI and the White House, and a line of communication's established. The president's new at this. He's new to government. So he probably wasn't steeped in the long-running protocols that establish the relationships between DOJ, the FBI and White Houses. He's just new to this.
Is Ryan claiming that ignorance of the law is a good excuse? Even for the president?
But I personally don't think that this is even a believable excuse. The real problem is that Trump has such an absolutely tenuous connection to reality that he feels perfectly willing and able to lie about just about anything, even things that are trivially disproved.
For example, on Friday Trump attacked James Comey, calling the former FBI director a liar, a leaker, and without actually providing any actual evidence against Comey's testimony under oath, claimed that there was "No collusion. No obstruction."
Then Trump had to just throw out one last thing. He tried to claim that the whole Russia investigation was merely a creation of those loser Democrats:
That was an excuse by the Democrats, who lost an election that some people think they shouldn't have lost, because it's almost impossible for the Democrats to lose the electoral college, as you know. You have to run up the whole East Coast and you have to win everything as a Republican, and that's just what we did.
Trump is absolutely obsessed by the magnitude of his victory over Hillary Clinton, such as her taking the popular vote, and even including such inconsequential things as the size of his inauguration crowd. So he is now claiming that he won the entire Eastern seaboard.
But that is a total fabrication. Trump won four states on the East coast: Florida, Georgia, and both Carolinas. He also won one electoral vote (out of four) in Maine (a state that divides up its electoral votes). It would be accurate to say that Trump won four states in the south, and other than one EV in Maine, lost the rest of the Eastern Seaboard (eight states and DC, plus three EVs in Maine).
But Trump seems to believe that he won "everything". He might also believe that Comey is a liar and a leaker. Although Trump is (once again) just hurling insults and calling names, as he has not presented any evidence that Comey lied, nor that Comey did anything illegal in getting his own memo disseminated to the public.