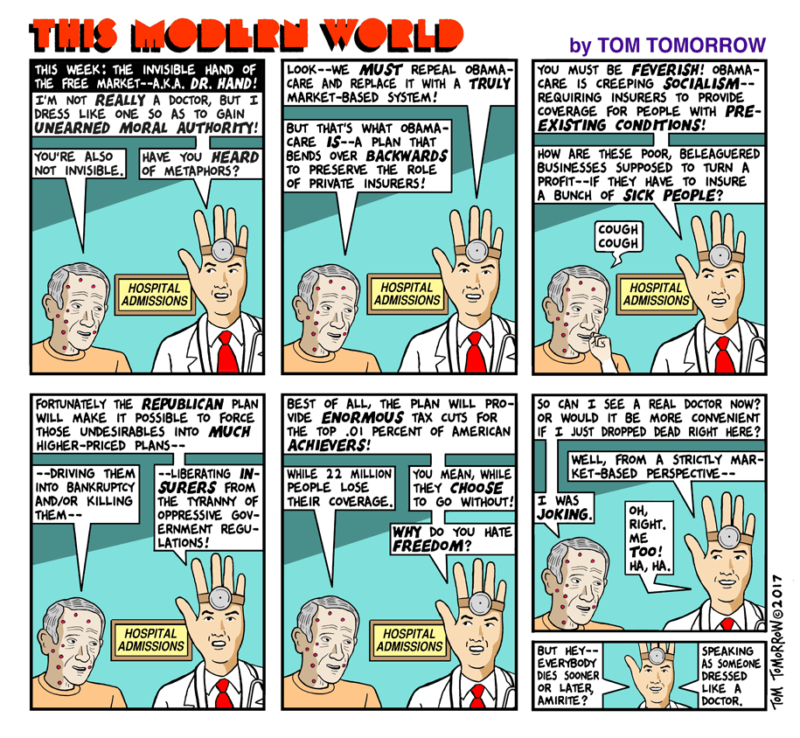 © Tom Tomorrow
The Republicans keep claiming that the Obamacare exchanges are collapsing. I guess they think that if they repeat it often enough, it will be true. There are just TWO problems with this. As I and many others have pointed out, if the health insurance exchanges are failing, then the Republicans should fix them. After all, isn't a free-market exchange for health insurance exactly the free-market solution that Republicans claim they want? And didn't they invent the idea in the first place?
But the bigger problem with what the Republicans are saying is (of course) that it just isn't true. The nonpartisan Kaiser Family just released a study of the exchanges, which was conducted in the first quarter of 2017, and their conclusion is that they are essentially stable. The insurers are making money off the exchanges, and (more importantly) the pool of people insured by them is not getting less healthy. And if this study wasn't enough, the Congressional Budget Office came to the same conclusions.
Now, here's the kicker, even though the exchanges are stable this stability is "fragile". Why? Because of the uncertainty caused by the Republican attempts to repeal Obamacare. Indeed, Donald Trump has even threatened to withhold payments to insurance companies, and there are also concerns about how strongly the Trump administration will enforce the individual mandate even if the Republicans fail in their attempts to kill the mandate. Killing the mandate would cause prices to rise significantly.
In essence, if the Republicans were doctors their diagnosis would be that the patient, while currently healthy, is in danger of getting very sick due to what they themselves are doing, so the only course of action is to kill the patient now before it is too late.