Attorney General Jeff Sessions is supposed to be our country's top law enforcer, but evidence appeared on Friday that Sessions perjured himself twice.
The first time we already knew about. It was when Sessions was being confirmed, when under questioning Sessions said "I did not have communications with the Russians." After confirmation, we found out that Sessions did indeed meet with the Russians. Sessions was called back to Congress, where he admitted that he had two meetings with the Russian ambassador (and probable spy) Sergey Kislyak but that he did not discuss anything related to Trump's presidential campaign. Except that there were actually three meetings. This led to Sessions recusing himself from the Russian investigation.
So of course, new evidence has appeared that Sessions and Kislyak did discuss the Trump campaign and the election. Which at worst would indicate that Sessions conspired with the Russians, which is a crime. Or at best he merely perjured himself under oath, twice, which is also a crime.
Either way, Sessions should go.
A spokesperson for the Justice Department has now acknowledged that the campaign and election might have been discussed during the meetings, but that interference in the election was not. The story keeps changing.
Electoral Vote points out that now we have five separate (and top) members of his presidential campaign who were only too happy to meet with the Russians to discuss the election. And then lied about it.
And Donald Trump claims that he didn't know anything about any of it. And this week Trump said that he wouldn't have appointed Sessions as AG if he had known that Session was going to recuse himself from the Russian investigation.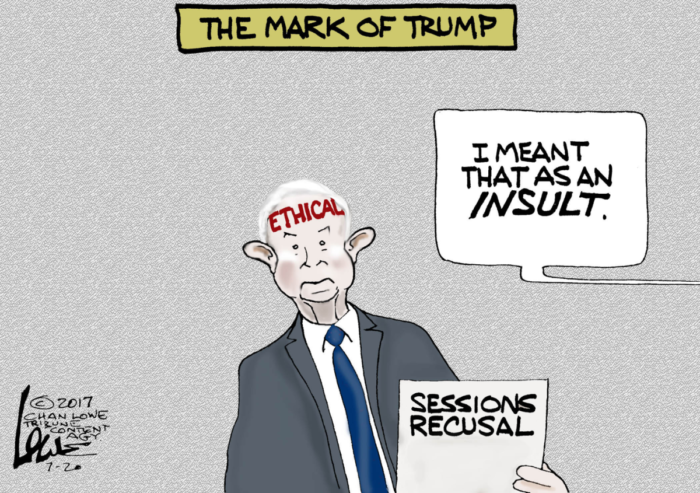 © Chan Lowe
---
Also published on Medium.