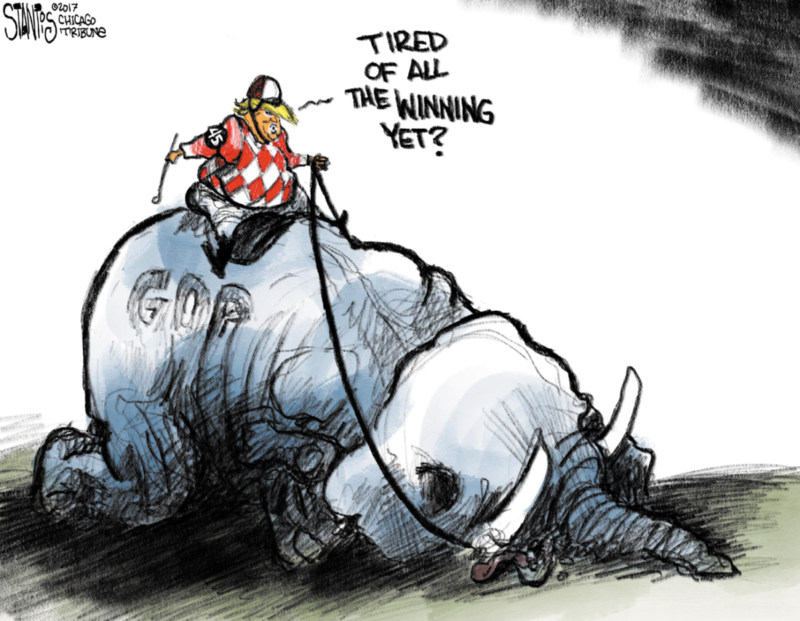 © Scott Stantis
Donald Trump keeps attacking his own Attorney General, Jeff Sessions, complaining that Sessions should not have recused himself from investigating Russia and that Sessions should be spending more time prosecuting Hilary Clinton. I guess Trump is admitting that he somehow didn't appoint the best people (except that nothing is ever Trump's fault).
Why? We found out yesterday when Trump suggested that he is thinking about replacing Sessions with Rudy "911" Giuliani, the former mayor of NYC. Despite being an ardent supporter of Trump, I guess Sessions wasn't enough of a toady for Trump, and Giuliani definitely fits that bill.
If Trump does this, nobody doubts that Giuliani would follow an order from Trump to fire special counsel Robert Mueller.
If Trump starts replacing his cabinet with enablers, then I suppose we can look forward to Chris Christie and Newt Gingrich taking jobs in the Trump administration. The only question is which jobs would be best for kissing Trump's ass?
I guess at least Trump would be winning.
---
Also published on Medium.