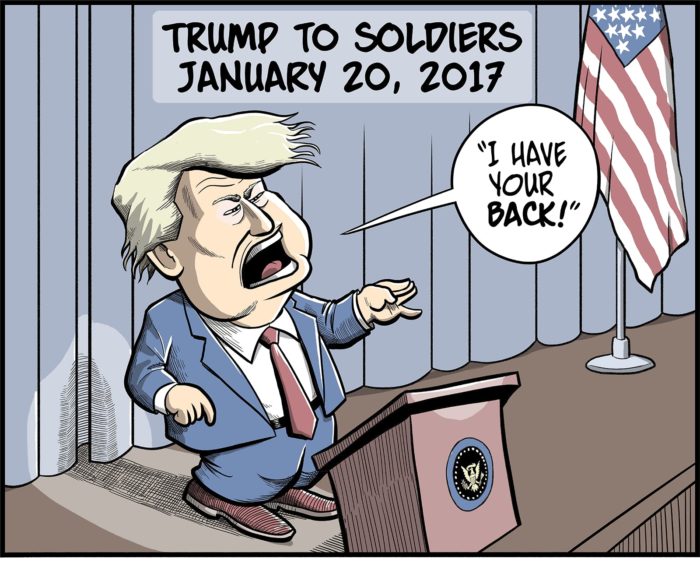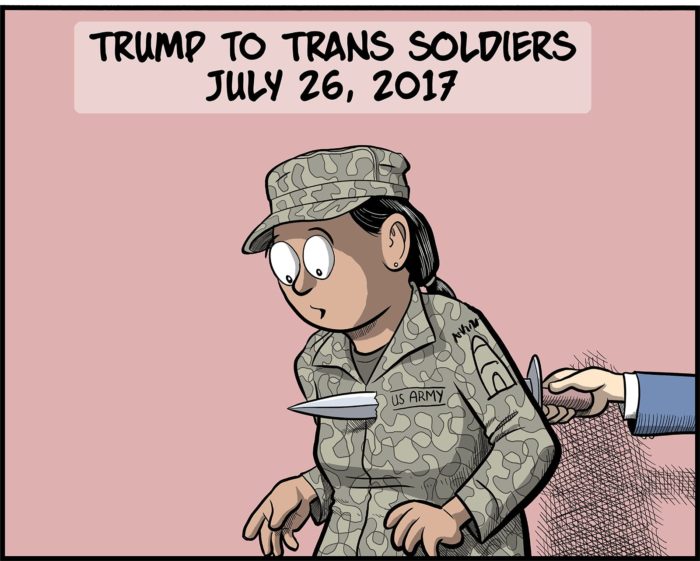 © Barry Deutsch
Why did Donald Trump lash out against transgendered soldiers on Twitter? After all, during the presidential campaign he made it clear that he didn't care one way or another about transgendered issues. And Trump's tweets came out of nowhere, as he never even bothered to talk to the military before he tweeted (despite lying in his tweet and claiming that he had talked to them).
As he has done before, he we just trying to distract his base from all the bad news, including the Russia investigation, the continuing failure of repealing Obamacare, and his staffing problems (including the shakeup in his communications office, which is doubly ironic because once again Trump did an end run around that department, demonstrating that Trump is his own communication problem).
So Trump pulled out the culture wars as a shiny object to distract his base, except that the shiny object was a knife in the back of soldiers and veterans.
The interesting part of this is that it already backfired. Even conservatives who had lobbied against transgendered soldiers said they were only trying to stop the military from paying for gender reassignment treatments (including surgery), and had not asked for a ban on transgendered soldiers serving in the military. Other Republicans denounced Trump's move.
The LGBT community reacted swiftly as well. George Takei tweeted "To those who believed Trump would be a friend to LGBTs, time to admit you were conned.", "History shall record that you are not only the stupidest, most incompetent president ever, but also the cruelest and pettiest.", and "Donald: With your ban on trans people from the military, you are on notice that you just pissed off the wrong community. You will regret it."
Caitlyn Jenner tweeted "There are 15,000 patriotic transgender Americans in the US military fighting for all for us. What happened to your promise to fight for them?" with a link to a tweet from Trump saying "Thank you to the LGBT community! I will fight for you". Jenner supported Trump during the election.
---
Also published on Medium.