In April 2016, Donald Trump was interviewed by Bob Woodward and Bob Costa. They asked candidate Trump if he needed to tame the rage in the Republican Party. Trump replied:
Yes, yes, but I bring that out in people. I do. I'm not saying that's an asset or a liability, but I do bring that out. …

I bring rage out. I do bring rage out. I always have.
In an interview yesterday, Bob Woodward was asked about that interview in 2016, and replied:
He's clearly proud of it. We now know, as president, that is part of the strategy of, blame the news media, get the environment roiled up as much as you can. And in some ways, it's worked. And so, he's embracing rage. And of course, rage is fury, uncontrolled anger.

When he blames the media, when he goes up in these rallies, I mean, they are all designed to raise the boiling point, raise the temperature.

We know presidents have extraordinary power. He has probably more power than any president I've reported on, going back to Nixon. And he has seized it with the communication channel — with the tweeting, and the rallies and the press conferences.

Let's not kid ourselves … He's stoking the fires.

A president has the great opportunity to heal things, to make things better. … Even his supporters know that they're being riled up, and a lot of people like it.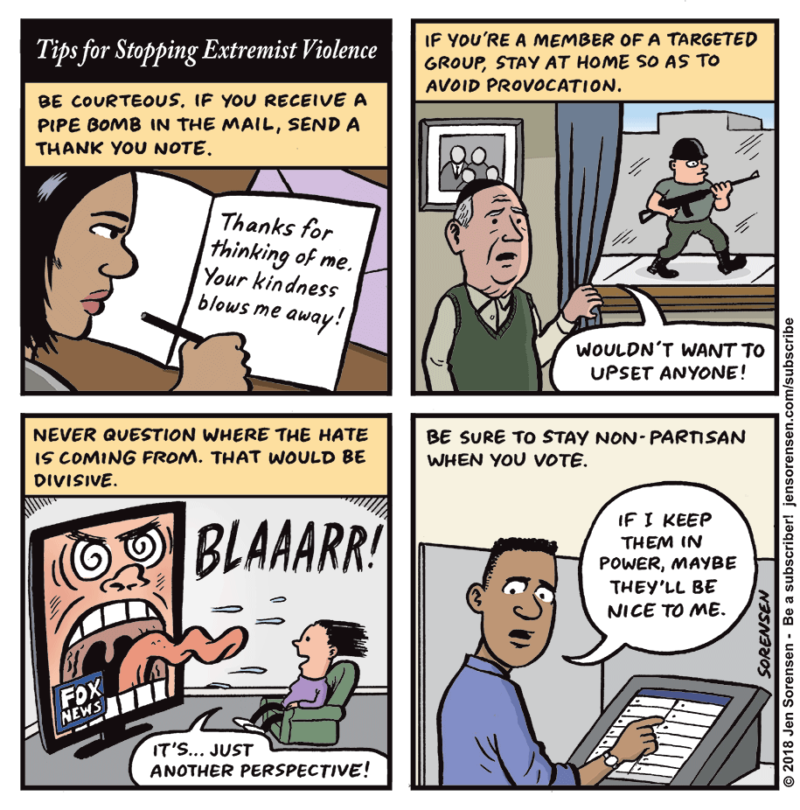 © Jen Sorensen