The Camp Fire in northern California is now the most destructive fire in California history. With nine people already found burned to death, Donald Trump wasted no time rubbing salt in the wounds by threatening to cut off Federal aid to fight the fires:
There is no reason for these massive, deadly and costly forest fires in California except that forest management is so poor. Billions of dollars are given each year, with so many lives lost, all because of gross mismanagement of the forests. Remedy now, or no more Fed payments!
Back in August, Trump claimed that there wasn't enough water to fight the fires:
California wildfires are being magnified & made so much worse by the bad environmental laws which aren't allowing massive amounts of readily available water to be properly utilized. It is being diverted into the Pacific Ocean. Must also tree clear to stop fire from spreading!
Of course, this is completely false. Firefighters replied "We have plenty of water to fight these fires".
Trump is so transparent. Do you see the pattern here? The "bad environmental laws" that Trump falsely claims are hurting fire fighting efforts are diverting water into the Pacific Ocean. Diverted? Silly me, I thought that rivers naturally flow into the ocean. In fact, isn't that how endangered salmon reproduce? If rivers aren't "diverted to the ocean" then salmon can't spawn and will go extinct.
So who really needs that water? Large corporate farms, which account for 80% of California's human water usage. Almonds alone use 10% of that agricultural water, and more than two-thirds of those almonds are exported (much of them to China).
Of course, Trump went ahead and overrode endangered species protections to access water that the firefighters say they don't need. Because, um, emergency. You know, Republicans aren't getting enough campaign contributions from agri-business.
Same thing with Trump's accusation of bad forest mismanagement. When Trump says that we "must also tree clear to stop fire from spreading", what he really wants is for lumber companies to again be able to do tons of logging, even if this destroys habitat for endangered animals and birds.
Oh, and scientists are saying that climate change is causing more severe wildfires. Seven of California's 20 most destructive fires have occurred in the last year alone. I guess that must be fake news.
UPDATE: Latest news!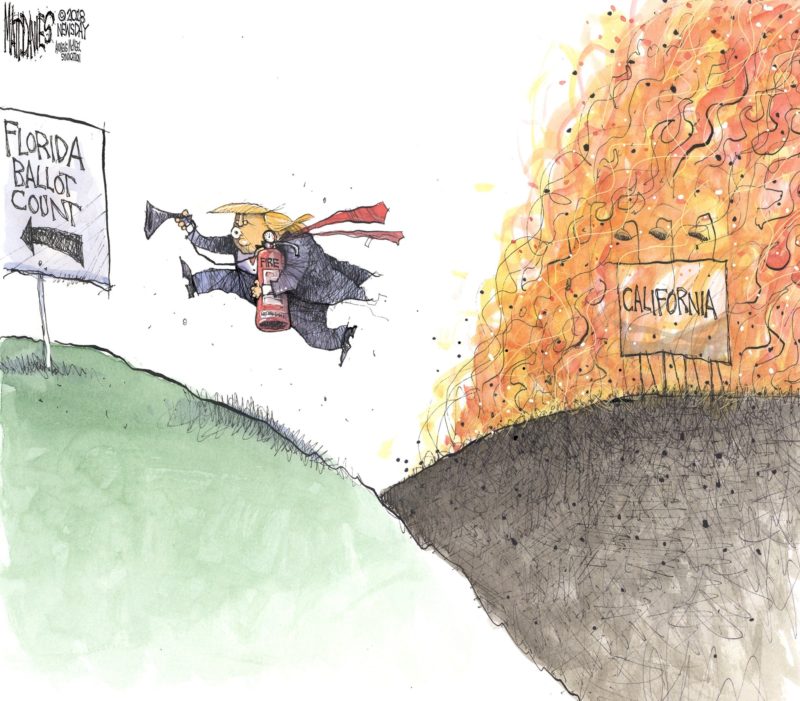 © Matt Davies
---
Also published on Medium.