The FBI reports that in 2017 hate crimes increased by 17%, a particularly large jump. That's the largest number of hate crimes in the last decade, and the third year in a row that hate crimes increased. Before that, hate crimes had been generally decreasing.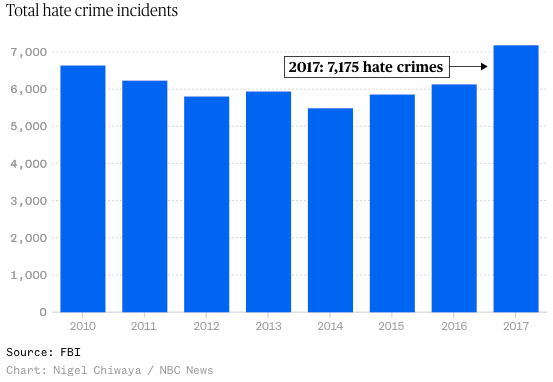 Hate crimes increased by an even larger amount against Jews (37%). And that doesn't even include the recent event in Pittburgh, where a gunman killed 11 Jews at their synagogue. That was the worst anti-Semitic attack in US history.
Many experts in Civil Rights note that hate crimes are vastly under-reported, because victims choose not to report the crimes, or because some police agencies do not keep statistics on hate crimes. The Arab American Institute estimates that fewer than 5% of hate crimes actually show up in the FBI data. For example, they point out that it is hard to believe that the Las Vegas Police Force, who serve 1.6 million residents, reported zero hate crimes in 2017.