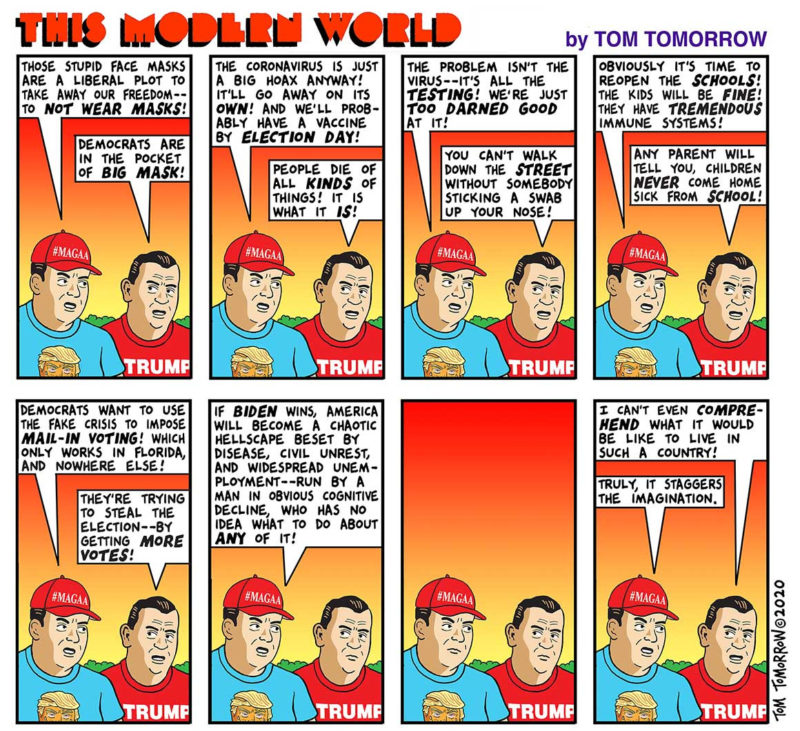 Donald Trump has nothing left to run his campaign on, except fear and hatred. As they say, will he be able to fool America twice? If he does, then shame on us.
The New York Times points out the dystopian nature of our current administration:
President Trump, of course, long ago redefined what constitutes normal in the White House, but with 77 days left in a campaign that polls show he is losing, he is pushing all the boundaries at once. At the same time the champion of birtherism is again scraping the raw edges of America's divisions over race, gender and national origin, he is propelling fringe ideas into mainstream conversation. And now, running as the incumbent, he has levers of power available to help salvage a flagging campaign.

Yet what once would have caused jaws to drop barely seems to register for long at this point because it is so quickly overshadowed by the next norm-busting statement or action.
When the president recently promoted a "very impressive" doctor who blames various ailments on demon sperm and says treatments are being developed from alien DNA, it was barely a one-day story. When he endorsed a QAnon adherent running for Congress who warns that the world is controlled by a "global cabal of Satan-worshiping pedophiles," it did not last that long.

At 11:09 p.m., just 15 minutes after posting on Twitter a statement mourning the death of his younger brother, he retweeted a message urging the abandonment of cities that he, as president, represents. "Leave Democrat cities," the message read. "Let them rot."