Who is Phil Gramm?  You might have heard his recent statement that America is a "nation of whiners" about the economy. He is a co-chair of McCain's presidential campaign and arguably his main economic advisor — McCain once called Gramm his "financial guru". So let's look at Gramm's economics:
Gramm was responsible for the "Commodity Futures Modernization Act" in 2000, which unleashed risky new investment instruments (which Warren Buffett called "financial weapons of mass destruction") that led to the Bear Stearns bailout and the current epidemic of mortgage foreclosures.
Enron CEO Ken Lay was chair of Phil Gramm's 1992 re-election campaign to the US Senate. Gramm's wife was a director of Enron from 1993 to 2001.
Gramm co-authored Reagan's first budget, which drastically cut Social Security benefits.
According to former official of the Commodity Futures Trading Commission and current law professor Michael Greenberger "Gramm has been a central player in two major economic crises — the credit crisis and the incredibly high price of energy."
So when Gramm tells you to stop whining, it is because you are getting in his way of becoming McCain's Secretary of the Treasury and costing you even more money. 
http://www.alternet.org/election08/87999/?ses=0618493a853c88bc0e896bed4d8f6d7d
http://www.huffingtonpost.com/arianna-huffington/sunday-roundup_b_112337.html
UPDATE: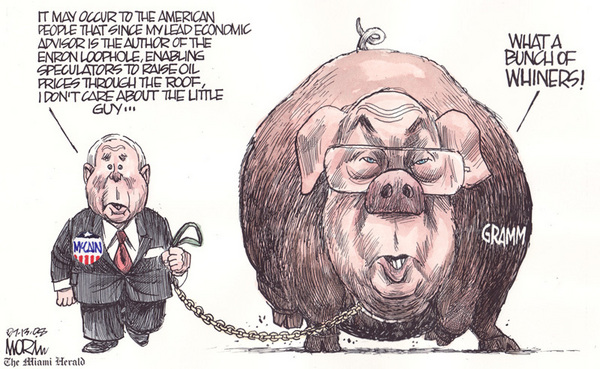 © Jim Morin