It was just two years ago that Republican Mark Foley resigned from Congress for sending improper sexual email and phone text messages to teenage male Congressional pages. Well, this is another Congressional district that keeps on giving.
Foley was replaced by Democrat, Tim Mahoney, who is now running for reelection. Mahoney is a conservative who ran on a "Faith and Families" platform and a promise to restore integrity to the seat. But Mahoney (a married father) has admitted to having an affair. At least this affair didn't involve the words "gay" or "pedophile" but a complication is that Mahoney's dalliance was with one of his staffers. When the affair he said she resigned, but there is a recording of the phone call where he fired her, ranting some pretty nasty things, like:
You're fired. … Whenever I don't feel like you're doing your job, then you lose your job. And guess what? The only person that matters is — guess who? Me. Do you understand that? Now this is how life really is. This is how it works.
Finally, after she threatened him with a lawsuit he agreed to pay her $121,000 in hush money. Now that's integrity!
Now, it's always ironic when someone who makes family values and integrity a centerpiece of their campaign is exposed as a hypocrite. But what makes this one even more interesting is that it will be difficult for Republicans to wave this an example of how Democrats are just as corrupt as Republicans, because Mahoney was actually a Republican who was recruited to run as a Democrat against Foley in the first place.
Since being elected, Mahoney has voted with the Republicans almost as much as he has voted with the Democrats. Is it any wonder that the Democrats have pulled their advertising from this race, and Nancy Pelosi has even called for an investigation of Mahoney?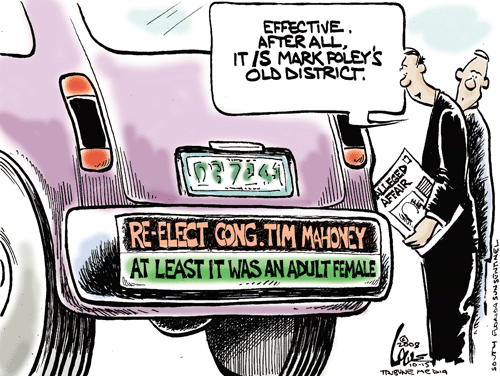 © Chan Lowe