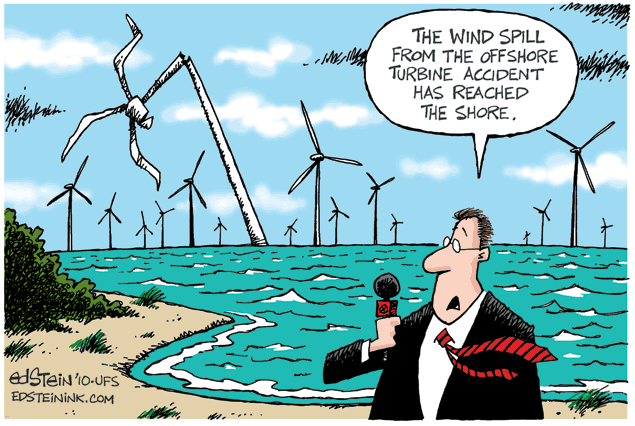 © Ed Stein
Instead of "Drill, Baby Drill" conservatives should be chanting "Blow, Baby Blow". Wind farms cost less to operate than coal or oil-fired plants, and as this comic points out it is difficult to imagine a major environmental catastrophe caused by a wind farm accident. Early concerns about birds being killed by wind turbines have been largely mitigated by placing wind farms away from bird migration routes, and newer turbines that use larger, slower-turning blades that are easier for birds to avoid.
Besides, drilling for oil is at best a short-term solution, since we will run out eventually. But the wind will never die.
Between wind and widespread use of low-cost solar panels, we have the technology to stop importing oil. Do we have the will?
UPDATE: Personally, I prefer more decentralized power generation. I really like this article about Sam's Club and Walmart installing small wind turbines at their stores, in addition to solar installations and fuel cells.