The stimulus bill (not to be confused with TARP, which was passed by Bush) was Obama's first major act to improve the ailing economy. Republicans opposed it vehemently. So how did it perform? If you divide jobs into those lost before the stimulus, to those lost after the stimulus, it looks like this: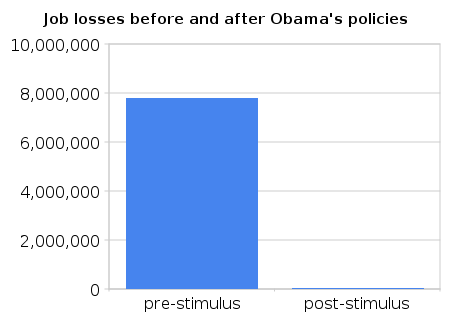 from Robert Shapiro, via Ezra Klein.
Not bad, but it could be better. In order to keep up with population growth, our economy needs to add around 150,000 jobs every month.
I posted a chart of jobs lost under Bush and Obama back in February, but there were some complaints that temporary government jobs (like the census, or stimulus funded jobs) were distorting the graph, so here's a graph that not only includes more recent data, but only counts private sector jobs: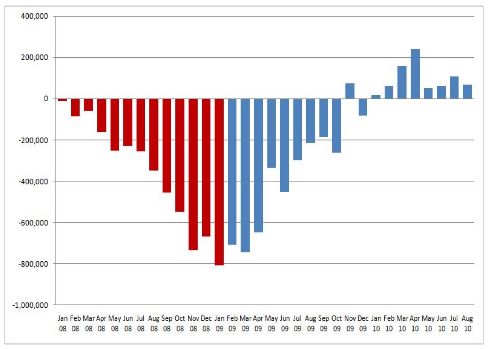 from Steve Benen.
Note that you can see the same graph, but with all jobs (private and public) here.
The Stimulus Bill did a lot of good, but there is more to be done, so Obama introduced a new bill that is targeted at small businesses (the majority of new jobs are created by small businesses). Not surprisingly, Republicans blocked the bill at the end of July, just before the summer Congressional break. Congress is starting up again this week so Democrats will have another chance to pass the bill.