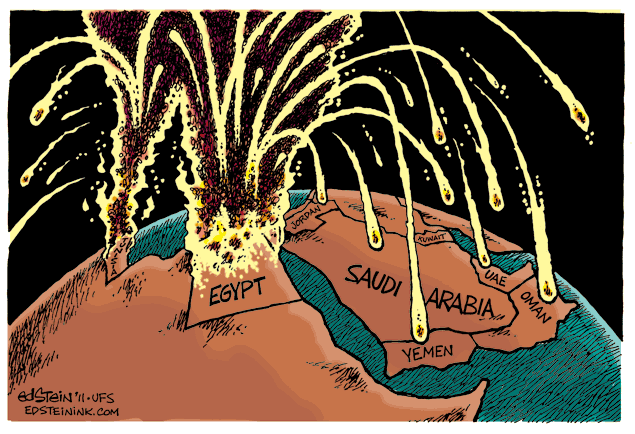 © Ed Stein
I love the fact that Ed Stein includes insightful commentary about his political cartoons on his blog. Here's his comentary for this cartoon:
It will be interesting, to say the least, to see how far the spontaneous popular revolution in Tunisia will spread through the Arab world. Will it stop in Egypt, or will the assorted monarchies and dictatorships that dominate the Arabian peninsula and other Muslim countries, fall like dominoes? Of equal interest is what will replace the current governments if they do fall. As we saw in Iran, there is no guarantee that a popular revolt against authoritarian regimes will result in democracies. The beards may not be in the streets, but the Taliban, the Muslim Brotherhood and their ilk are waiting in the wings.

Will whatever replaces Mubarak honor its treaty with Israel? Will the regimes we have allied ourselves with continue to help stabilize the region, or are we witnessing a regional breakdown of our influence, as well? Stay tuned. To Al Jazeera.