In the Iowa Caucuses on Tuesday, Rick Santorum came within 8 votes of winning. 8 votes.
Why is this amazing? Because it shows how completely and totally out of the mainstream the Republican party has become. Either that, or the state of Iowa just went insane.
Santorum is about as extreme as you can get as a religious conservative. He isn't against just run-of-the-mill things like gay marriage or abortion, Santorum wants to make contraception illegal. He has repeatedly spoken out against the 1965 Supreme Court decision that struck down bans on discussing or providing contraception to married couples. He is against the right to privacy, the right that keeps police from searching your bedroom looking for condoms.
How out of the mainstream is this? Virtually all women of childbearing age (more than 99%) have used some kind of contraception, which Santorum wants to make illegal. That would make criminals out of half of America.
That's crazy. Even worse, if contraception were illegal, abortions would increase dramatically, as would teen pregnancies and other unintended pregnancies. In fact, according to a survey done last year, 82% of Americans want to increase access to contraception for women who cannot afford it. Santorum wants to ban all government funding of contraception.
Less than 3 months ago in an interview talking about contraception, Santorum promised that "all those issues are going to be front and center with me. I know most presidents don't talk about these things and maybe people don't want us to talk about these things. But … these are important public policy issues." Not jobs. Not the economy. Not terrorism. This is what the person who came within 8 votes of winning the Iowa caucuses wants the government to focus on.
Some people may say that those people in Iowa voted for Santorum only because he was the flavor of the week, and he wasn't Mitt Romney. And now that attention is being focused on the new kid on the block he will quickly burn out, just like Gingrich, Cain, Perry, Trump, Bachmann, and others before him did. If that's true that people voted for Santorum even though they had little idea what he stands for, then we need to rethink the whole nominating process.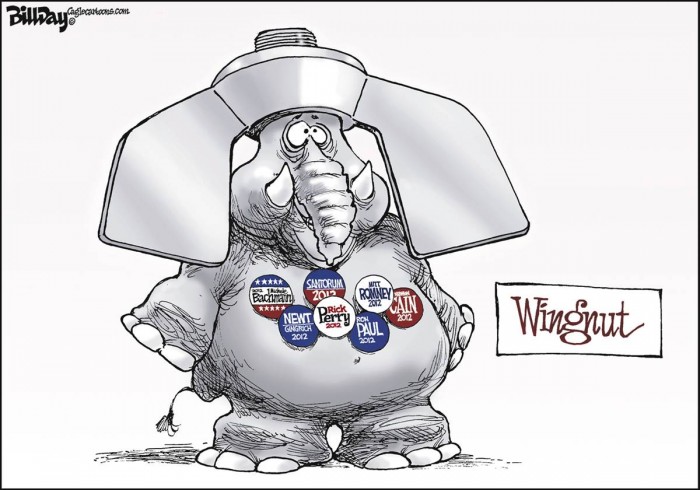 © Bill Day
UPDATE: In this post I focused on Santorum's position on contraception, but he has plenty of other issues that put him outside the mainstream. He also wants to ban all pornography.